The science of information
With all the technology in today's world, it's no surprise that data is one of the fastest growing fields in the professional arena. In fact, demand for informatics professionals has risen over 163 percent in two years. That's huge! Why not put yourself in a position to benefit from this rapidly growing field?
Informatics, or information science, can be found in business, education, or health care professions. This 15-credit post-bachelor's certificate program will provide foundational knowledge for professionals in a variety of disciplines to learn to make meaningful, ethical, data-driven decisions. These kinds of decisions can reduce costs, creating workflow efficiency, and promote satisfaction among stakeholders. This program includes two distinct tracks, for healthcare and non-healthcare professionals.  The program is completely online and includes courses such as Fundamentals of Healthcare Informatics and Database Structures and Processes. A capstone project will be individualized for each student.
As part of this certification program, you will learn to apply the principles of informatics to support evidence-based decision making. You will also learn to incorporate Christian principles and ethical decision making into date use and management. You will learn how to demonstrate an understanding of database languages including design, analysis, queries, and retrieval. You will also be able to implement an improvement project using informatics in a practice setting.
In addition to our main and online campuses, Concordia has nine center locations which offer accelerated undergraduate and graduate programs close to where you live and work.
Career Paths
Nurse
Hospital Manager
Clinical Manager
Health Information Manager
Educator
Dean - School of Nursing, Professor
Phone: (262) 243-4246
Email: sharon.chappy@cuw.edu

Bio
Dr. Chappy teaches in the DNP program. She serves as Research Editor of the AORN Journal and on the national AORN Transition to Practice Task Force. She is involved in several collaborative health initiatives including one with Fresh Meals on Wheels in Sheboygan County.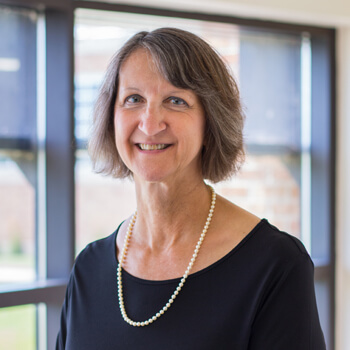 ---
Education
Ph D - Nursing, University of Wisconsin Milwaukee (2001)
MS - Nursing , University of Wisconsin Oshkosh (1994)
BS - Nursing, University of Wisconsin Madison (1979)
---
Contributions
Neal-Boylan, L., Guillett, S. & Chappy, S., (2018). Academic Leadership in Nursing: Effective Strategies for Aspiring Faculty and Leaders (1st, pp. 1st). New York, NY: Springer.
---
Research Interests
Perioperative Nursing
Nursing Education
---
Teaching Interests
Research and Evidence Based Practice
Pathophysiology
Connect with a Counselor
Please select the area that best describes you from the options below.