Leave a legacy in your community
You can be a part of the long-term success of students and your community through the Urban Education Minor. Our School of Education ensures that you'll learn a strong foundation in trusted education principles balanced with emerging trends in classroom management. Through principles of courage, inspiration and compassion, you can work with the underserved part of your community and help close the achievement gap.
Through this minor, we focus on addressing the needs of the whole student. This means engagement in core subjects, child health and safety and guidance in the exploration of their beliefs and values. We have the program INVEST that strives to increase the diversity and skill of teachers in urban settings within Milwaukee. We also have a partnership with the Institute for City Education with a focus on immersion, community outreach and instructional team collaboration. We combine traditional teaching methods with field experiences so you can understand what student success really means. You will have access to experienced educators to develop the commitment to change and earn effective approaches for school improvement and parent outreach.
Recommended for you (based on programs you've viewed)
Undergraduate Application Steps
It's time to help you become a Falcon! Just follow these simple steps to complete your application.
For first-time freshman:
Submit your online application  
Submit the Common Application
Have your school send your official high school transcripts. Transcripts may be mailed or sent via a transcript processing service to:

Concordia University Wisconsin
Admissions Office
12800 N. Lake Shore Dr.
Mequon, WI 53097


Send your official ACT or SAT scores.
Scores on your high school transcript will be considered official. If your school does not put scores on transcripts, please contact ACT at www.act.org or College Board at www.collegeboard.org.
For transfer students:
Submit your online application
Submit the Common Application
Submit official transcripts from all colleges/universities attended
*Transfer students with less than 60 college credits completed will also submit official high school transcripts. Students who have less than 30 college credits also need to submit official ACT or SAT scores. Scores on your high school transcript will be considered official.
Minimum Requirements
A minimum GPA of a 2.5/4.0 (C average) or higher
ACT composite of 18 or above
SAT equivalent of 940 or higher for combined math and evidence-based reading and writing (for tests taken after March 2016).  
*If your GPA or ACT score falls below the minimum for acceptance, your admissions counselor may ask you to retake the test or supply additional documents, such as an essay or letters of recommendation, to complete the application.
Required Academic Coursework in High School
A minimum of 16 units of high school (secondary school) work is required, of which at least 11 should be in basic liberal arts areas. Units should be distributed as follows:
English: At least three units, but four are strongly recommended.
Mathematics: Two units of college-prep math, preferably one each in Algebra and Geometry.
Natural Science: Two units, preferably one each in Biology, Physics or Chemistry.
Social Studies: Two units, preferably one each in world history and American history.
Liberal Arts: Two units of the same foreign language or additional units in one or more of the other listed subjects or in fine arts.
Other Electives: Five units from any area of academic study, but ideally from the areas listed above.
German or Latin is recommended for pre-seminary students.
Assistant Professor
Office: Albrecht Hall 107 C
Phone: (262) 243-2604
Email: eugene.pitchford@cuw.edu

Bio
Eugene Pitchford teaches Human Relations and the Urban Education face-to-face classes. . His research focuses on effective teaching, appropriate usage of homework, and urban education.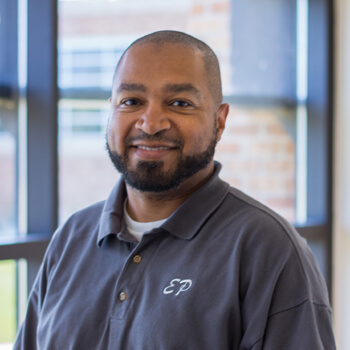 ---
Education
MA - Administraative Leadership and Curriculum Instruction, Alverno College (2001)
BA - Public Relations, Mississippi Valley State Univerity (1996)
---
Research Interests
What makes a successful teacher?
Effective use of homework
---
Teaching Interests
Connect with a Counselor
Please select the area that best describes you from the options below.