Wednesday, April 11th, 2018
Wisconsin healthcare costs rank higher than most other states. Every Wisconsin business and organization is struggling with the high cost of healthcare, we've designed this summit to equip and empower business leaders to make more effective healthcare decisions by learning about alternative strategies and healthcare models that eliminate non-value added middlemen and costs. -  Dr. Dan Sem, Dean of the Batterman School of Business
Through a series of speakers and panel discussions, the 2018 Healthcare Economics Summit will present bold, alternative pay model solutions that have been successfully implemented by other companies, and introduce guests to practicing pioneers who are disrupting the current nontransparent pay-for-service financial model, saving companies millions of dollars.
Keynote and other speakers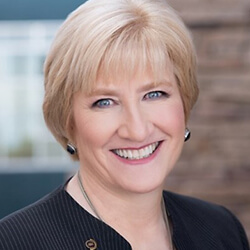 Setting the tone for the summit will be keynote speaker Dr. Barbara L. McAneny, president-elect for the American Medical Association, the nation's largest physician organization.
A clinical oncologist, McAneny is CEO and co-founder of New Mexico Oncology Hematology Consultants, where she still practices. In 2012, she was awarded a grant from the Center for Medicare & Medicaid Innovation to test how private oncology practices could reduce costs while improving quality. The model, known as the Community Oncology Medical Home, served as the basis for Medicare's Oncology Care Model. McAneny is an outspoken leader who champions physician empowerment and the elimination of regulatory burdens that limit access to care and increase costs. She will speak on the future business model for healthcare delivery in the Unites States.
Other speakers include: John Raymond, president of the Medical College of Wisconsin; Craig Schedler, partner at the new $50 million Northwestern Mutual Future Ventures fund; Al Lewis, founder of Population Health Alliance and Quizzify; and Jeff Bernhard, president of Continental Benefits.
Al Lewis, a Harvard economist, regular contributor to Wall Street Journal and New York Times, and author of several books on healthcare reform, will be presenting a $4 million grand challenge to employers at the Summit, along with a chance to win an all-expense paid week at Martha's Vineyard based on the healthcare cost questions that they submit. Company attendees will also receive an autographed copy of Dave Chase's book, A CEO's Guide to Restoring the American Dream: How to Deliver World Class Health Care to Your Employees at Half the Cost.  A complete list of speakers and further details may be found here (PDF).
Agenda and Schedule
7:45-8:15a: Registration and Continental Breakfast
8:15-8:25a: Welcome by President Ferry
8:25-8:30a: Introduction by Dr. Bud Chumbley (President, Wisconsin Medical Society)
8:30-9:00a:
Keynote: The Future Business Model for Healthcare Delivery
Dr. Barbara McAneny (Incoming President of the AMA)
9:00-9:30a:
Panel: The Current Model for Insurance – What's Wrong, and How to Fix It
Jim Sanft (CEO, Concordia Plan Services), Randy Marking (President, Innovative Benefit Solutions), Gerald Frye (President, Benefit Services Group). Facilitated by Dr. Tim Bartholow (VP/CMO, WEA Trust).
9:30-10:00a:
Panel: CEO Panel – Healthcare Challenges and Solutions, by WI Employers
John Torinus (former CEO, Serigraph), Dick Vallin (CEO, Advanced Manufacturing Technologies), Sue Buettner (President, QuadMed).   Facilitated by Jim Temmer (President, BBB).
10:00-10:30a: Break: Networking break (visit exhibitors & SE WI HealthTech entrepreneurs)
10:30-10:45a:
Keynote 2: The Evolving Business Model for Healthcare – A Wisconsin Perspective
Dr. John Raymond (President, Medical College of Wisconsin)
10:45-11:15a:
Panel: Industry Trends:
Amazon/JP Morgan/Berkshire
;
CVS/Aetna
;
Aurora/Advocate
John Raymond (President, MCW); Alexander Kempe (President, 37celsius Capital); Bud Chumbley (President, WMA); Craig Schedler (Partner, Northwestern Mutual Future Ventures (new $50 million fund)). Facilitated by Eric Haberichter (CEO, Access HealthNet).
11:15-12:00p:
Presentation: Health Rosetta & The CEO's Guide to Restoring the American Dream
How to Deliver World Class Healthcare to Your Employees at Half the Cost
Jeff Bernhard (President, Continental benefits), David Contorno (CEO, Lake Normal benefits) and Dave Chase (CEO, Health Rosetta) recorded
12:00-12:15p:
Presentation: Health-contingent Outcomes-based
Wellness
: Is it a Fraud or Just a Waste of Money?
Al Lewis (Founder, Population Health Alliance and Quizzify) via Skype

Al Lewis taught economics at Harvard and now runs the leading employee health education company, Quizzify. He is well-known as the industry's most visible contributor to and interviewee for the Wall Street Journal and New York Times and other publications, and as author of several nationally recognized trade-bestselling books on population health economics, including "Why Nobody Believes the Numbers (Forbes' Digital Health book of the year in 2012); and, he is listed by Forbes as "One of 13 people to watch – the unsung heroes of healthcare." At the Summit, Al will be announcing a $4 million dollar reward for any employer or vendor who can show wellness doesn't lose money, along with other prizes, including a chance to win an all-expense paid week at Martha's Vineyard for submitting the best question, as voted by the attendees at the Summit
Last year's inaugural Healthcare Economics Summit focused on the topic of market transparency and welcomed speakers including Gov. Scott Walker, Access HealthNet Co-founder and CEO Eric Haberichter and Serigraph, Inc. Chairman and author John Torinus, Jr.
The 2018 Healthcare Economics Summit is co-sponsored by the Remedium eXchange Think Tank, an effort of Concordia's Batterman School of Business. The RX Think Tank is a consortium of Wisconsin business leaders who share a goal to consumerize health care by incentivizing, educating, and empowering consumers in transparent markets.
For more information contact Janet Mushall at Janet.Mushall@cuw.edu.
Tickets are $100 and can be purchased online by visiting  emsweb.cuw.edu/EmsRegics/HealthcareEconomicsSummit