Savor the Moments
You have the vision and ambition to create beautiful and meaningful photographs that communicate your vision to the world. Our program will help you define your fields of interest, sharpen your visual as well as technical skills, and to build a professional portfolio. Concordia's photography major prepares you for the world ahead with the skills and awareness to pursue your chosen future.
The Photography Major is part of a comprehensive curriculum at Concordia intended to develop your professional skills as well as spiritual and intellectual values. Your classes outside your major at CUW will provide you with a well-rounded bachelor's degree, and your study of photography will include a chosen minor in perhaps Marketing, Business, English, or Graphic Design to help you build the necessary skills for a successful career in photography. Your major courses will be supplemented by internship opportunities that will give each student professional experiences, and enhance your preparation for the professional world.
A degree in Photography can lead to a variety of careers, including fine art, commercial photography, journalism, editing, education and research, museum and online curation, art direction, marketing, storytelling, and more. We encourage students to develop their own professional techniques and style. You'll develop a comprehensive understanding of the craft of photography using Concordia's digital facilities to develop contemporary skills, and darkroom facilities to understand and explore historical processes.
Classes outside your major will consist of the liberal arts core curriculum, your selected minor, and foundational studio art courses. In the Photography Major you will study photographic composition, camera usage, studio and natural lighting, editing, digital technologies, contemporary marketing practices, portfolio development, image presentation, and develop the ability to photograph a wide array of subject matter with personal intent and professional standards.
Undergraduate Application Steps
Admit. Commit. That's it!
For first-time freshmen and transfer students:
Submit your online application
Send Official High School Transcripts (College Transcripts if Applicable).
Send your official ACT or SAT scores
You will receive an email and a phone call from your dedicated Admission Counselor. Please reach out to your counselor if you have any questions regarding the application process. We review each application on an individual basis using a holistic approach.
Office: Loeber Hall LO109
Phone: (262) 243-4479
Email: paul.calhoun@cuw.edu

Bio
I've been a photographer/teacher for thirty five years. My work has been exhibited throughout the United States and internationally, and supported by numerous grants including NEA and NEH.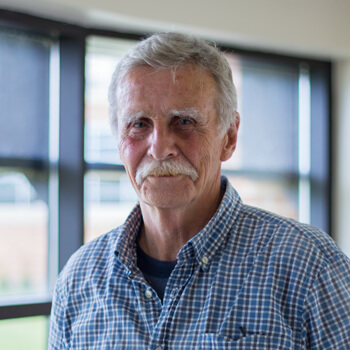 ---
Education
MFA - Fine Art, City University of New York (1983)
---
Research Interests
Immigration
Migrant Workers
---
Teaching Interests
Photography
Art Appreciation
Connect with a Counselor
Please select the area that best describes you from the options below.