Use your skills to educate others
Have you ever thought you'd like to teach other nursing students? Do you already have your master's in nursing? If the answer to both of those questions is yes, Concordia has the perfect program for you! Take your nursing knowledge to a new level with our post-master's Nurse Educator Certificate, which provides the foundation and skills necessary for you to teach in a nursing education program or teach peers in a health care setting.
You've had a lot of nursing education. Have you ever thought about educating others? With our Nurse Educator Certificate, you can. Complete our flexible, self-paced, and interactive online program in 4-6 weeks. Get real-time mentoring from qualified nurse educators and earn a certificate that meets the educational criteria necessary to sit for the National League for Nursing (NLN) Certified Nurse Educator Exam. Best of all, our courses are built upon a Christian foundation. When you're finished, you'll have demonstrated your excellence in the science of educating nursing students and staff.
In this program you'll analyze current and emerging technology in the education of adult learners and study critical challenges and opportunities in nursing education. This certificate is broken down into eight modules. When you complete a module, you earn a badge. After gaining all eight badges, you will earn a certificate allowing you to sit for the NLN Certified Nurse Educator exam—a mark of distinction, demonstrating excellence in the specialty of nursing education.
Licensure / Certifications
After completing all eight badges, nurses will earn a certificate that meets the educational criteria necessary to sit for the NLN Certified Nurse Educator exam. This is recognized as a mark of distinction,demonstrating excellence in the specialty of nursing education.
In addition to our main and online campuses, Concordia has nine center locations which offer accelerated undergraduate and graduate programs close to where you live and work.
Entrance Requirements
Admission to the program is very competitive and a minimum cumulative undergraduate GPA of 3.0 is required to be eligible for acceptance.
Science and Undergraduate Nursing GPA are critically appraised as part of the admissions process – 3.0 GPA in those areas are strongly encouraged for review.
Current licensure as a registered nurse in the USA, current CPR certification, and actively working in practice
Successful completion of a three credit undergraduate statistics course within five years of admission to the MSN program.*
GRE exams are not required.
Application deadline for fall term is May 1.
Application deadline for spring term is October 1.
* The statistics prerequisite must be completed before you register for MSN 540/840 Nursing Research.
Application Requirements
Current resume of your education and professional experience
A formal admission essay addressing the following areas:

Your rationale for choosing a career as a nurse practitioner in primary care or a nurse educator.
Your personal compatibility with the CUW mission.
Your plan for success in the program, including time management, stress management and professional communication.
Upon completion of your degree, where do you envision yourself practicing and with what population.

Three letters of recommendation: two must be professional and/or academic and one must be from an NP, CNS, NE, MD, DO, or PA who has worked with you in a health care setting while interacting with patients. The letter must be submitting on formal letterhead or on the graduate recommendation form.
All official transcripts from colleges/universities previously attended
A letter from the university that you attended stating the number of clinical hours earned during your MSN Program.
Contact Us
For additional information, please contact the Graduate Admission Office at graduate.admission@cuw.edu or 262.243.4300.
Dean, Professor
Office: R110D
Phone: (262) 243-4246
Email: sharon.chappy@cuw.edu

Bio
Dr. Chappy teaches in the DNP program. She serves as Research Editor of the AORN Journal and on the national AORN Transition to Practice Task Force. She is involved in several collaborative health initiatives including one with Fresh Meals on Wheels in Sheboygan County.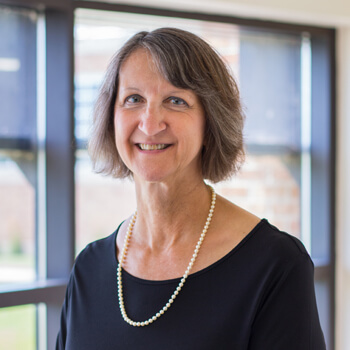 ---
Education
Ph D - Nursing, University of Wisconsin Milwaukee (2001)
MS - Nursing , University of Wisconsin Oshkosh (1994)
BS - Nursing, University of Wisconsin Madison (1979)
---
Contributions
---
Research Interests
Perioperative Nursing
Nursing Education
---
Teaching Interests
Research and Evidence Based Practice
Pathophysiology
Connect with a Counselor
Please select the area that best describes you from the options below.