Empower students as learners
Have you ever wondered why our nation behaves as it does today? How the civilizations that once dominated the world fell? Or even, perhaps, what the future may hold? The key to it all is to dig into our past. That's what you'll learn with a history focus in the secondary education program, a field of study that will help you interact with the past, while preparing you to engage with the students of your future. Digging into history can lead to a whole new world of ideas. It's not just names and dates – those are all merely the outline to a far more interesting story. One you'll uncover little by little in every class. Our curriculum provides a solid foundation in the Liberal Arts to help you develop yourself as a critical and organized thinker and teacher, ready to impart the most important lessons in, well … all of history.
This program will help you develop your understanding of major events and themes across multiple eras. You'll learn about global history and the philosophy of history, and you'll gain the skills necessary to read, write, and teach about history. From ancient civilizations to modern Europe, Asia to America, from politics to economics, the history of warfare to the history of food, clothing, and sports. Studying the past helps us learn about human nature. It teaches us about ourselves. Which, of course, comes in handy when you're on a track to becoming a teacher yourself.
Undergraduate Application Steps
It's time to help you become a Falcon! Just follow these simple steps to complete your application.
For first-time freshman:
Submit your online application  
Submit the Common Application
Have your school send your official high school transcripts. Transcripts may be mailed or sent via a transcript processing service to:

Concordia University Wisconsin
Admissions Office
12800 N. Lake Shore Dr.
Mequon, WI 53097


Send your official ACT or SAT scores.
Scores on your high school transcript will be considered official. If your school does not put scores on transcripts, please contact ACT at www.act.org or College Board at www.collegeboard.org.
For transfer students:
Submit your online application
Submit the Common Application
Submit official transcripts from all colleges/universities attended
*Transfer students with less than 60 college credits completed will also submit official high school transcripts. Students who have less than 30 college credits also need to submit official ACT or SAT scores. Scores on your high school transcript will be considered official.
Minimum Requirements
A minimum GPA of a 2.5/4.0 (C average) or higher
ACT composite of 18 or above
SAT equivalent of 940 or higher for combined math and evidence-based reading and writing (for tests taken after March 2016).  
*If your GPA or ACT score falls below the minimum for acceptance, your admissions counselor may ask you to retake the test or supply additional documents, such as an essay or letters of recommendation, to complete the application.
Required Academic Coursework in High School
A minimum of 16 units of high school (secondary school) work is required, of which at least 11 should be in basic liberal arts areas. Units should be distributed as follows:
English: At least three units, but four are strongly recommended.
Mathematics: Two units of college-prep math, preferably one each in Algebra and Geometry.
Natural Science: Two units, preferably one each in Biology, Physics or Chemistry.
Social Studies: Two units, preferably one each in world history and American history.
Liberal Arts: Two units of the same foreign language or additional units in one or more of the other listed subjects or in fine arts.
Other Electives: Five units from any area of academic study, but ideally from the areas listed above.
German or Latin is recommended for pre-seminary students.
Assistant Professor
Phone: (262) 243-2177
Email: brad.alles@cuw.edu

Bio
Brad Alles teaches Foundations of Education and Teaching the Faith. His interests include apologetics and worldview education. He has produced two books, a DVD, and has spoken in twenty states.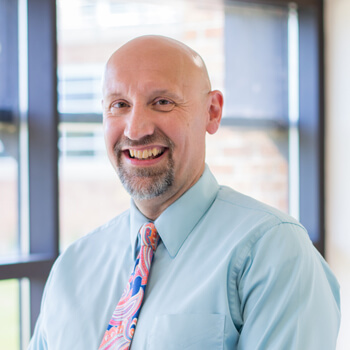 ---
Education
MA - Christian Education, Concordia University Chicago (1994)
BS - Secondary Education/Art & Theology, Concordia University Nebraska (1987)
---
Research Interests
Faith development
Christianity and cultural transformation
---
Teaching Interests
Christian education
Apologetics
James D. Juergensen, Ed.D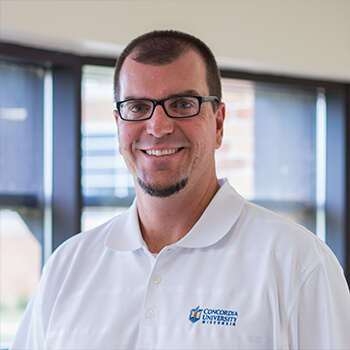 ---
Education
EDD - Leadership for the Advancement of Learning and Service, Cardinal Stritch University (2004)
---
Research Interests
Christian leadership
Athletic ministry
---
Teaching Interests
Secondary education methods
Middle level educaton methods
Department Chair - Secondary/K-12 Education, Associate Professor
Phone: (262) 243-4203
Email: adam.paape@cuw.edu

Bio
Dr. Paape serves as the department chair for the Secondary/K12 education department. His instructional focus is in mathematics education, mentoring future teachers of mathematics. His research focuses on student-centered mathematics instruction, with an emphasis on implementing rich, conceptual mathematical tasks.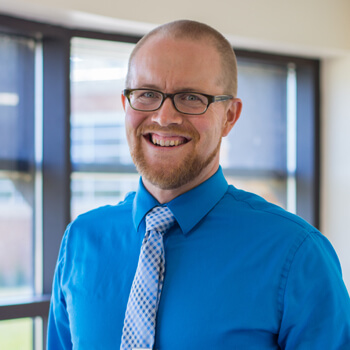 ---
Education
EDD - Educational Leadership, George Fox University (2013)
MS - Educational Administration, Concordia University Wisconsin (2004)
BA - Secondary Education - Mathematics, Concordia University Wisconsin (2000)
---
Contributions
Paape, A. (2018). Reflections on Professional Coaching: Eight Mathematics Teaching Practices River Forest, IL: Lutheran Education Journal. http://www.pagetu...
Paape, A. (2017). (Not) Teaching the Way We Were Taught (Spring 2017). (pp. Spring 2017). River Forest, IL: Lutheran Education Association. http://stf.lea.or...
Paape, A. (2016). Review of Brian Pickerd, Scattering Seed in Teaching: Walking with Christ in the Field of Learning and Education 20 (3, pp. 3). Calvin College: International Journal of Christianity and Education. http://ice.sagepu...
Paape, A. (2016). Using Highlighters to Promote Productive Struggle and Deepen Student Understanding Wisconsin Teacher of Mathematics. http://www.wismat...
Paape, A. (2015). Encyclopedia Entry: School Prayer. Encyclopedia of Christian Education. 2 Lanham, Maryland: Rowman and Littlefield.
---
Presentations
Paape, A. (2018). Using the Desmos Activity Builder to Engage Mathematics Learners. Demonstration. LCMS Northern Illinois District Teachers' Conference. Concordia University Chicago.
---
Research Interests
Mathematics instructional methodolgy
In-service teacher instructional practices
---
Teaching Interests
Mathematics education
Pre-service teacher preparation
Connect with a Counselor
Please select the area that best describes you from the options below.