Discounted high school dual credit courses
Taking dual credit courses in high school is a great way to save time and money, but the experience should offer you more than a fantastic value and a great opportunity to jumpstart your college pathway. After all, this is your education and your future.
Under the Concordia Promise, high school students, either home schooled or at Christian schools, can enroll in online dual credit courses for a reduced tuition cost of $50 per credit hour. Learn about dual credit courses for all other students on the Admissions site.
After completion of dual credit courses, Concordia Promise students are eligible to participate in the Concordia Promise Plus. The Concordia Promise Plus is a scholarship in the amount paid for the dual credit courses that is applied toward their undergraduate tuition if the students choose to attend Concordia University Wisconsin or Ann Arbor. Essentially, students receive their first year of college completely for free.
You'll earn both high school and college credit by taking one or more collegiate-level courses. And with our flexible online classes taught by Concordia University faculty, you can complete coursework during the school day or at home, whatever fits you best.
What is the difference between the Concordia Promise scholarship and the Concordia Promise Plus tuition back grant?
The Concordia Promise Scholarship is for students in Christian high schools or home school environments who enroll in Concordia University Dual Credit courses. The scholarship reduces the price of the already discounted Dual Credits from $200 per credit to $50 per credit. The Concordia Promise Plus is a tuition back grant for those Dual Credit students if they choose to attend Concordia University (Wisconsin or Ann Arbor) for their undergraduate degree. The tuition paid for Dual Credit courses will be credited back as a tuition back grant for those students.
Is the Concordia Promise offered by all the Concordias in the university system?
The Concordia Promise is a unique program offered by Concordia University (specifically Concordia University Wisconsin & Concordia University Ann Arbor).
What does it mean to be a partner school?
Concordia Promise Partner Schools can receive an assortment of supplemental programs such as:
Consulting services from Concordia University
professional development opportunities
participation in leadership summits for qualified high school students
Access to Concordia University's free non-credit online courses
View a list of all our partner schools.
Who can take Dual Credit courses?
The Concordia University Dual Credit courses are designed for honors-level high school students. Eligibility requirements are listed on the Dual Credit Preliminary Agreement found here.
Will the students in the class only be from my high school?
Although the Dual Credit courses provide the same content as the courses offered to traditional undergraduate students, the Dual Credit course enrollment is limited to Dual Credit honors-level high school students. The students in each Dual Credit class are from a variety of high schools including Christian, private, public and home school environments.
Partner with us
By becoming a Concordia Promise partner, you will be able to give your students a significant advantage as they pursue higher education. If you are a current administrator or teacher at one of our partner schools, please call and request our media kit. Inside you will find a "Concordia Promise" badge for your website, printable posters for your classrooms, a FAQ handout, and a press release template to announce our partnership. If you are an administrator or teacher at a school we have not yet partnered with, learn how you can offer the Concordia Promise to your students by calling the number below.
Join us today in changing higher education.
262-243-2077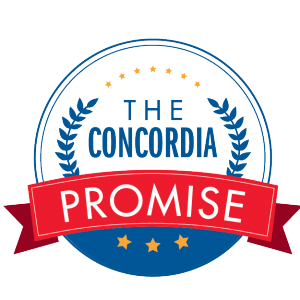 Concordia Promise Scholarship Partner Schools
Orange Lutheran High School
lhsoc.org/
Orange, CA
Christ Our Savior Lutheran High School
coslhs.org
Evansville, IL
Trinity Lutheran High School
trinitycougars.org
Seymour, IN
Lutheran High School North
lhsa.com
Macomb, MI
Lutheran High School Westland
lhsa.com
Westland, MI
Lutheran High School Northwest
lhsa.com
Rochester Hills, MI
Plymouth Christian Academy
plymouthchristian.org
Canton, MI
Valley Lutheran High School
vlhs.com
Saginaw, MI
West Michigan Lutheran High School
wmlhs.org
Wyoming, MI
Martin Luther High School
martinlutherhighschool.org
Holt, MI
Detroit Christian Schools of Excellence
detroitchristianschools.com
Detroit, MI
Macomb Christian Schools
gomacomb.com
Warren, MI
Hope Lutheran High School
hopelhs.org
Winona, MN
Heartland Lutheran High School
heartlandlutheran.org
Grand Island, NE
Sierra Lutheran High School
slhs.com
Carson City NV
Living Word Lutheran High School
lwlhs.com
Jackson, WI
Sheboygan Lutheran High School
lutheranhigh.com
Sheboygan, WI
Lake Country Lutheran High School
lakecountryhs.org
Hartland, WI
Racine Lutheran High School
racinelutheran.org
Racine, WI
Northeastern Wisconsin Lutheran High School
newlhs.com
Green Bay, WI
Wolf River Lutheran High School
wrlhs.org
Cecil, WI
Martin Luther High School
martinlutherhs.org
Greendale, WI
Milwaukee Lutheran High School
milwaukeelutheran.org
Milwaukee, WI
Wisconsin Valley Lutheran High School
wvlhs.org
Mosinee, WI
Walther Christian Academy
walther.com
Melrose Park, IL
Lutheran High School
spiluhi.org
Springfield, IL
Redeemer Lutheran High School
rlspittsburgh.org
Verona, PA
Lutheran High School San Antonio
lhssa.org
San Antonio, TX
Concordia International School Hanoi
concordiahanoi.org
Hanoi, Vietnam
Lutheran High School
lhsparker.org
Parker, CO
Valley Lutheran
vlhs.org
Phoenix, AZ
Eastbrook Academy
eastbrookacademy.org
Milwaukee, WI
Metro-East Lutheran High
melhs.org
Edwardsville, IL
Tunis International Academy
Tunisia
Lutheran High North
lutheranhighnorth.org
Houston, TXK