One for the Team
So many youth are involved in sports these days. Kids are often double and triple booked, as they race from sport to sport on a daily basis. What an opportunity for Christian teachers to guide and shape them! With a minor in coaching, educators can serve as mentors—teaching the art of the sport they know best, while keeping the focus firmly on Christ.
Do you remember that ONE coach you had, so long ago, that made a big difference in your life? Now it's YOUR turn to step up and be that coach. God made our bodies with amazing abilities. Whether we're spiking a volleyball or punting a football, there is always the opportunity to serve as a Christian guide and mentor through the activity of sports. Take the sport you love best, and turn it into a calling through a minor in Athletic Coaching.
Teach the game you love and make a lasting difference in kids' lives. This minor is available for those students in the Elementary/Middle School Education program.
Licensure / Certifications
Leads to the Wisconsin Department of Public Instruction #1540 license.
Recommended for you (based on programs you've viewed)
Professor
Office: Field House F023A
Phone: (262) 243-4228
Email: lois.mueller@cuw.edu

Bio
Lois has spent her entire career at Concordia University Wisconsin where she has served in many capacities including teaching, coaching and administration. Currently Lois teaches in the undergraduate area of kinesiology including courses in exercise physiology, biomechanics, psychology of sport and motor development. She also teaches a graduate course focusing on sociological aspects of sport with particular emphasis on gender. The relationship between movement and brain function and the meaning found in physical activity are areas of special interest. A native of West Allis, Wisconsin, Lois earned her Bachelor's Degree from Carthage College in Kenosha, Wisconsin and her Master's Degree from State University of New York at Brockport. Greeley, Colorado was her home for a few years as Lois did her doctoral work at the University of Northern Colorado.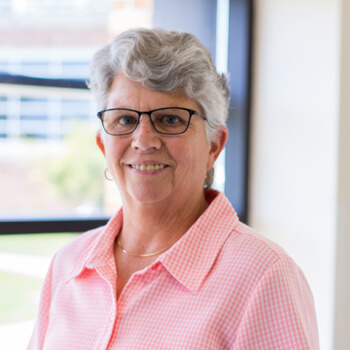 ---
Education
EDD - Psychological Kinesiology - Physical Education, University of Northern Colorado (1988)
MS - Philosophy of Sport - Physical Education, State University of New York (1982)
BA - Physical Education, Carthage College (1978)
---
Research Interests
Enhancing learning through movement.
The evolving role of physical education in schools.
---
Teaching Interests
The role of physical activity throughout the lifespan.
The joy and meaning found in sport and physical activity.
Connect with a Counselor
Please select the area that best describes you from the options below.