School of Business
Department of Business
Doctor of Business Administration
Impact and grow the business world with evidence-based decision-making skills from this Doctor of Business Administration degree.
Enhance your critical thinking and analytical skills in an online doctorate program
It's time to achieve the highest level you can in business. It's time to implement positive change on the performance of organizations and their employees. Begin your journey to a doctorate in business with our next cohort in January 2024. Connect with other motivated professionals where you will grow your skills and network together for the next three years.
Cohort Format
Next cohort starts in January 2024. Application deadline is November 1, 2023.
Concentrations
Healthcare Admin, Organization Change & Performance, Financial & Economic Management, Sustainability
Questions? We're here to help
Our team is available to help you as you consider the next step in your education.
Get answers to your questions
Our team is standing by to assist you with additional program details, financial aid options, and admissions questions.
Concordia University will not share your personal information. By submitting this form you agree to be contacted about Concordia's Education Offerings.
The Doctor of Business Administration (DBA) is the highest accredited academic business degree at Concordia University. It is designed to address the current challenges facing organizations, leaders, and teams in today's business environment. You will develop scholar-practitioner skills as you learn from industry experts skilled in blending applied learning with theory development. The coursework, research, and the dissertation process will equip you with the tools and knowledge to transform organizations and improve performance as an influential and trusted leader.
This three-year, 60-credit (minimum) Doctor of Business Administration program features four concentrations:
Business Sustainability: Examine multiple methods to assess environmental risks and innovate sustainable solutions in order to implement strategies that generate value and increase competitiveness through sustainability. 
Financial and Economic Management: Study how the financial and economic theory impacts global and regional organizations. You'll have the opportunity to explore further either financial or economic principles allowing you to apply the concepts to organizational structure and productivity.
Healthcare Administration: Study the administration of global health care systems and provide graduates with the opportunity to examine technology and analytics, legal and ethical considerations, and leadership topics encountered by top industry professionals.
Organizational Performance and Change (OPC): Learn applied methods and theories that address organizational improvement by examining individual, team, and organizational analysis and enhancing decision-making techniques.
Regardless of your concentration, you will benefit from the quantitative and qualitative business concepts that will be addressed and taught. You will acquire evidence-based decision-making skills to prepare you for effective leadership in business, healthcare, non-profit, education, government, and other professional industries.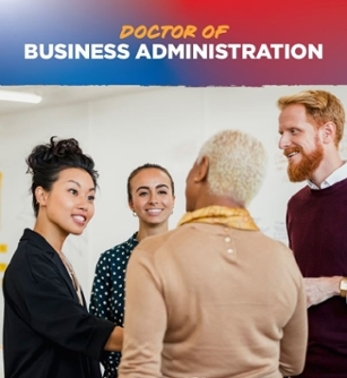 NEW - All But The Dissertation (ABD) option
Have you started your doctorate but life got in the way? Have you completed your DBA courses, but never finished your dissertation? Our program provides the opportunity for students who have completed all requirements for a doctorate at another institution except for their doctoral dissertation to earn their degree. Concordia University welcomes all applicants who have achieved this status in their graduate education. We will help you achieve your goal and set you up for success. Now is the perfect time to finish earning your doctorate. Let us help! Click here for more information. 
The online courses follow an 8-week format during this three-year program. For your dissertation, you will be assigned a research faculty advisor that has expertise in your chosen dissertation topic. Also, our DBA coordinator will support you as you progress through your courses, projects, and more.
A key component to the DBA program is utilizing a cohort format. It helps optimize your learning as you work to earn your doctorate degree. As a DBA student you are required to attend two in-person residencies at our campus with your assigned cohort. Each residency takes place for three days and consists of courses, networking, and other business-related activities. You will participate in the first residency when you start the program, and the second residency takes place during your final year.
The next cohort will start in January 2024 with the in-person residency on January 25-27, 2024. Accepting applications until November 1, 2023. Apply today!
Upon completion of this program, you will be able to:
Compose ethical business solutions to complex organizational problems. 
Formulate scholar-practitioner knowledge for organizational success. 
Design qualitative and quantitative research projects related to business.
Evaluate organizational structure and design for productivity.
Questions? We're here to help