Expand your vocation
Are you working as a Sonographer and want to earn your bachelor's degree to advance your career? Concordia's Diagnostic Medical Sonography completion program was created for individuals like you! This opportunity allows students who have passed the National AART exam to transfer their previous knowledge and credits into Concordia's completion program; so you can earn your degree faster.
You will complete the Concordia core curriculum and electives, in addition to the credits transferred, to complete your bachelor's degree in Diagnostic Medical Sonography. We encourage you to select a minor that will help you fulfill the total number of credits (126) needed for graduation. You can transfer up to 90 credits and a minimum of 63 credits. This degree can be completed in a year and a half or less! From the very start, we will match you with an academic advisor to determine how many credits you are able to transfer, and get you started on your journey to growing in your career.

We understand that you are a busy working professional. That is why this program provides flexible learning options. Each course lasts 6 or 8 weeks (depending on the given format). You'll benefit from coursework that is founded on a Christ-centered education.
Learn to communicate effectively and work collaboratively with others in your field. Through this program you will demonstrate the ability to think rationally and critically, to analyze and to research a problem, and to propose potential solutions. You'll also come out with a better understanding of the ethical responsibilities of health care from a Christian perspective.
In addition to our main and online campuses, Concordia has nine center locations which offer accelerated undergraduate and graduate programs close to where you live and work.
Appleton
Beloit
Green Bay
Kenosha
Madison
Mequon
Midtown
Miller Park Way
Online
Waukesha
Career Paths
Sonography Supervisor
Sonography Sales
Sonography Educator
Students must be a licensed Sonographer from an accredited U.S. program, having passed the ARDMS, ARRT or CCI. Plus, have proof of current licensure as a Diagnostic Medical Sonographer. Official transcripts from all post-secondary institutions including DMS transcript must be sent directly to the CUW Center at which you are enrolling. Students will need to take at least 36 credits at CUW in order to receive a Diagnostic Medical Sonographer degree.
Dean, Professor
Office: HS110A
Phone: (262) 243-4469
Email: Linda.Samuel@cuw.edu

Bio
Linda Samuel is the Dean of the School of Health Professions. She began her career at CUW as a member of the Occupational Therapy Department teaching Behavioral Health and a variety of foundational courses. She later held the position of the Chair of the Occupational Therapy Department for 8 years.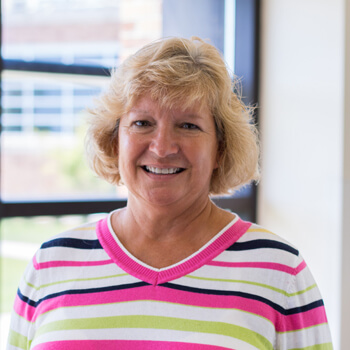 ---
Education
Ph D - Educational Psychology, Marquette University (2001)
MS - Educational Psychology, University of Wisconsin - Milwaukee (1993)
BS - Occupational Therapy, University of Wisconsin - Milwaukee (1984)
---
Contributions
Samuel, L. (2009). Review. A Review of Groups: Applying the functional group model. 25 (1, pp. 1). AOTA.
Samuel, L. (1999). Expanding Roles in Wisconsin February AOTA.
Samuel, L. (1998). Changes in Mental health Practice in Wisconsin. New Frontiers in Psychosocial Occupational Therapy. New York: Haworth Press.
Samuel, L. (1998). Responsive changes in mental health practice in Wisconsin 14 (1, pp. 1). Journal of Occupational Therapy in Mental Health.
---
Presentations
Barnhart, R., Hensel, L., Moser, C., Routier, W., Samuel, L. & Watry, M., (2016). 1) : Occupational Therapy, Physical Therapy and Special Education Together: Using Interprofessional Education to Enhance Entry Level Pediatric Therapy Education. Poster. Anaheim CA.
Samuel, L. (2015). Celebrating OT - Exploring Academic Issues that Impact Clinical Education and Practice. Lecture. Madison.
Barnhart, R., Hensel, L., Moser, C., Routier, W., Samuel, L. & Watry, M., (2014). Problem Based Learning: An Interprofessional Education Experience. Poster. Mequon, WI.
---
Research Interests
Interprofessional Education (IPE)
Problem Based Learning (PBL
---
Teaching Interests
Occupational Therapy - Behavioral Health
Rehabilitation Science - Teaching and Learning in Rehabilitation
Connect with a Counselor
Please select the area that best describes you from the options below.