Broaden your horizons
Today's world is smaller than ever, and learning German can open the door to diverse opportunities. So whether you plan to spend time abroad, are looking to compliment another area of study, or hope to gain a deeper appreciation for the culture of our Lutheran heritage, studying German at Concordia can prove to be a tremendous asset.
German is among the most commonly spoken languages in the world and has the largest number of native speakers in the European Union. So when you take courses at Concordia designed to help you develop listening, speaking, reading, and writing fluency, you're opening yourself up to new opportunities—opportunities like study abroad trips or exciting job prospects.

German offerings at CUW also expose students to the traditions and customs of the culture. Many of the world's most important works of literature, music, history, theology, and science are written—in some instances solely—in German. Learners will be exposed to the country's storied history and explore the issues that face contemporary German society.
One of the best ways to become fluent in all things German is to immerse yourself in it. That's why we make it a requirement for all CUW German majors to study abroad. Past students have studied in places like Greifswald, Wittenberg, Vechta, Kassel, Berlin, and Bonn.

But whether you graduate with a bachelor's degree in German, or even just a couple courses under your belt, you'll undoubtedly broaden your perspective. A degree in German will enhance your knowledge and skills in other areas as well, and you'll come out of the program a well-rounded, globally minded citizen who's not only fluent in the language, but who possesses the skills and knowledge to connect with a broader community.
Undergraduate Application Steps
It's time to help you become a Falcon! Just follow these simple steps to complete your application.
For first-time freshman:
Submit your online application  
Submit the Common Application
Have your school send your official high school transcripts. Transcripts may be mailed or sent via a transcript processing service to:

Concordia University Wisconsin
Admissions Office
12800 N. Lake Shore Dr.
Mequon, WI 53097


Send your official ACT or SAT scores.
Scores on your high school transcript will be considered official. If your school does not put scores on transcripts, please contact ACT at www.act.org or College Board at www.collegeboard.org.
For transfer students:
Submit your online application
Submit the Common Application
Submit official transcripts from all colleges/universities attended
*Transfer students with less than 60 college credits completed will also submit official high school transcripts. Students who have less than 30 college credits also need to submit official ACT or SAT scores. Scores on your high school transcript will be considered official.
Minimum Requirements
A minimum GPA of a 2.5/4.0 (C average) or higher
ACT composite of 18 or above
SAT equivalent of 940 or higher for combined math and evidence-based reading and writing (for tests taken after March 2016).  
*If your GPA or ACT score falls below the minimum for acceptance, your admissions counselor may ask you to retake the test or supply additional documents, such as an essay or letters of recommendation, to complete the application.
Required Academic Coursework in High School
A minimum of 16 units of high school (secondary school) work is required, of which at least 11 should be in basic liberal arts areas. Units should be distributed as follows:
English: At least three units, but four are strongly recommended.
Mathematics: Two units of college-prep math, preferably one each in Algebra and Geometry.
Natural Science: Two units, preferably one each in Biology, Physics or Chemistry.
Social Studies: Two units, preferably one each in world history and American history.
Liberal Arts: Two units of the same foreign language or additional units in one or more of the other listed subjects or in fine arts.
Other Electives: Five units from any area of academic study, but ideally from the areas listed above.
German or Latin is recommended for pre-seminary students.
Department Chair - Modern Languages, Assistant Professor
Phone: (262) 243-2103
Email: brian.gunderson@cuw.edu

Bio
Brian Gunderson teaches a wide range of Spanish courses at CUW. He is chair of the Modern Languages department. His research includes 20th and 21st Century Latin American Literature; in particular, he is interested in ethnic studies through literature and is the author of a book on the African heritage as seen through this time period's literature in Latin America where an African presence is purported to not exist.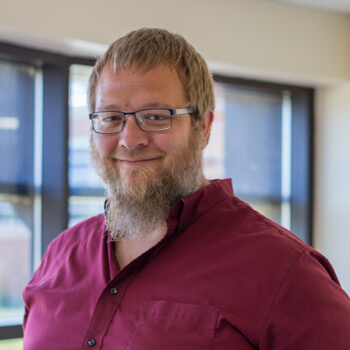 ---
Education
Ph D - Spanish, Western Michigan University (2014)
MA - Spanish, Western Michigan University (2008)
BA - Spanish Studies B.A., German Studies B.A., University of Minnesota-Duluth (2005)
---
Presentations
Gunderson, B. (2018). "La diáspora latinoamericana, los flujos migratorios y crímenes del estado contra sus ciudadanos: la vista desde el extranjero a sistemas de represión en Tu nombre en silencio de José María Pérez Gay". Oral Presentation. 71st Annual Kentucky Foreign Language Conference. Lexington, KY.
Gunderson, B. (2017). "Amor en los tiempos globales: Un barrio del D.F. local y sus implicaciones en la literatura mexicana detectivesca del siglo XXI en 'La esquina de los Ojos Rojos', de Rafael Ramírez Heredia". Oral Presentation. 70th Annual Kentucky Foreign Language Conference. Lexington, KY.
Gunderson, B. (2017). "La ironía, lo carnavalesco y los flujos migratorios que impregnan las Meta-narrativas de la Modernidad en 'Lejos de donde' de Edgardo Cozarinsky". Oral Presentation. Michigan Academy of Science, Arts & Letters. Kalamazoo, MI.
Gunderson, B. (2016). "Grimm Tales: Jorge Volpi's Oscuro bosque oscuro, the Third Reich, and 21st Century Neoliberal Mexico". Paper. 69th Annual Kentucky Foreign Languages Conference. Lexington, KY.
Gunderson, B. (2016). "The Many Faces of Amphitryon: Borges, Levi-Strauss, and the 'Structural Study' of the Impostor(s) in Times of War". Paper. Michigan Academy 2016 Conference. Saginaw, MI.
---
Research Interests
Ethnic Studies in Literature of 20th and 21st Century Latin America
21st Century Globalization in Mexican Literature
---
Teaching Interests
Modern Latin American and Spanish Literature
Cervantes, Medieval Spanish and Colonial Literature
Connect with a Counselor
Please select the area that best describes you from the options below.