Enrich the lives of those around you
Have you recently completed your undergraduate studies? Or has it been years since you were in a classroom? Either way, our Master of Science in Information Technology (MSIT) is applicable to your professional development. We have experienced faculty, who are eager to pass on their knowledge. However, what makes us truly distinct is not only our commitment to assisting your career, but also helping you better serve in your chosen vocation.
Our program is designed to meet the needs not only of current IT professionals and new graduates interested in IT, but also those who enjoy using technology to help other people solve problems. This curriculum will provide you with the foundational knowledge and skills to understand computer systems and their relationship to business problems. We emphasize ethical computing; so you'll learn how a Christian professional responds to the needs of clients, users, and society in general. Because your educational needs as a working professional vary, we provide several learning formats. Courses are offered in an accelerated, on-campus, and online formats.
As a graduate student, you get to learn the core elements of IT, as well as the latest advancement in technology. You'll receive practical training in professional codes of practice, network-aware applications, safeguarding IT, and data communication. Our faculty take a "hands-on" approach to education; so be prepared to design and configure IT systems, develop effective and usable tools, and create, implement, and maintain database management systems. You'll also explore the implications and limits of machine intelligence. Overall, the theme throughout your studies will be to use your newfound skills to enrich the lives of those around you.
In addition to our main and online campuses, Concordia has nine center locations which offer accelerated undergraduate and graduate programs close to where you live and work.
Career Paths
Computer and Information Analyst
Computer and Information Research Scientist
Information Security Analyst
Database and Systems Administrator and Network Architect
Database Administrator
Graduate Application Steps
These programs have a minimum undergraduate GPA requirement of 3.00.
Admissions Process for Graduate School
Application (Please Submit the Following):
Application form available at: www.cuw.edu/apply
Non-refundable application fee
One page essay describing your reason for obtaining a graduate degree
Résumé of your education and employment experience
Two signed letters of recommendation using the Recommendation Form (recommendation letters on letterhead may also be submitted)
All official transcripts leading to your bachelor's degree
Please note:
Graduate entrance exams such as the GRE are not required
If you have completed graduate level classes in the last seven years and wish to have them evaluated for possible transfer, please contact your admissions counselor for more information on transferring graduate credits
International students should contact the Office of International Student Services at international.admissions@cuw.edu for additional application requirements

Evaluation
When an applicant's file is complete, the file is forwarded to the Admission Committee for review.


Admission
If the student is admitted, an acceptance letter will be mailed to the student and the student's Falcon One Student ID number. Password information to access my.cuw.edu will be sent separately from the Information Technology office. Your advisor will be able to give you information regarding completion of the required student orientation before you begin your first class.
Non-Degree Seeking Graduate Students
Please complete the Non-Degree Application at www.cuw.edu/apply
Non-degree applicants only need to submit an application to begin admission review; however academic transcripts may be requested to complete our review
Contact Us
For additional information, please contact the Graduate Admission Office at graduate.admission@cuw.edu or 262.243.4300.
Department Chair - Computer Science, Professor
Phone: (262) 243-4217
Email: locklair@cuw.edu

Bio
I am passionate about the mission of Concordia any my vocation of college professor. I want to teach at a school where I can integrate my Christian worldview into the classroom. Teaching is about passion. You must love what you do, and you must communicate that passion – that excitement – to others. Above all, I teach for the LORD (Colossians 3:23). I am passionate about computer science (methods of problem solving) and cosmogony (science of origins).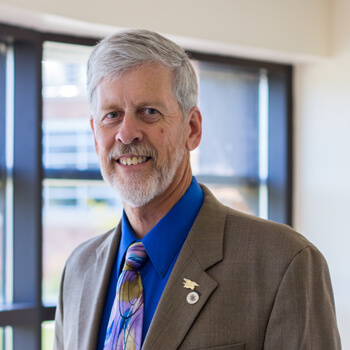 ---
Education
Ph D - Computer Science, Nova Southeastern University (2002)
MS - Computer Science, Univeristy of Idaho (1986)
BS - Computer Science and Chemistry, California State University Sacramento (1979)
Concordia University Wisconsin (1988)
---
Contributions
Locklair, G. (2018). Connecting Art and Science: Computer Science as a Liberal Art. Concordia Technical Journal. 1 (1, pp. 1). Mequon, WI: Concordia University Wisconsin.
Locklair, G. (2017). Obsolete Digital Data Formats . Routledge Companion to Media Technology and Obsolescence. London: Routledge.
Locklair, G. (2016). Intelligent Computers in a Christian Worldview XXIV (3, pp. 3). St. Louis, MO: Lutheran Mission Matters.
---
Presentations
Locklair, G. (2018). Clearly Created - How God Formed Heavenand Earth. Keynote/Plenary Address. Society of Creation annual conference. Mequon - Pharmacy Building.
Locklair, G. (2018). Contentious Compromise - Why God Didn't Use Evolution. Keynote/Plenary Address. Society of Creation annual conference. Mequon - Pharmacy Building.
Locklair, G. (2018). Ethics and Technology. Keynote/Plenary Address. Concordia Apologetics Conference. Mequon - Pharmacy Building.
Locklair, G. (2017). From Martin to Motherboards: Technological Artistry in the Wake of the Reformation. Keynote/Plenary Address. Concordia University Reformation 500 . Mequon - Luptak Terrace Room.
Locklair, G. (2017). Integrating Faith and Learning. Oral Presentation. Faculty Summit. Mequon - Barth Auditorium.
---
Research Interests
Information Theory
AI - Robotics, Vision, Neural Networks
---
Teaching Interests
Computer Science - Theory of Computation
Software Engineering
Connect with a Counselor
Please select the area that best describes you from the options below.