The pinnacle of life-long healing
We know what you're thinking: Dr. Nurse has an oddly satisfying ring to it. But all kidding aside, this program is reserved for those who feel called to the highest level of nursing practice. And it means you will undoubtedly be a leader among your peers.
Healthcare is always evolving. And there is a real need for talented people like you to drive that change. The Doctor of Nursing Practice Program prepares students at the highest level of practice to analyze current evidence and integrate systems thinking as a foundation for organizational change management and quality improvement initiatives to improve practice, education, and patient care in various settings.
Program Highlights:
Post-master's program for certified advanced practice nurses or advanced administrators.
Cohort model is inclusive and supportive. 
Accelerated classes in a flexible online format make this a manageable program for working professionals. 
GRE is not required for admission. 
Courses are built on a Christian foundation.
To accommodate the schedules of working professionals, our DNP program is centered on an inclusive and supportive cohort class strategy. The Program can be completed in two years.. Courses integrate elements to meet the 
American Association of Colleges of Nursing (AACN) Essentials of Doctoral Education for Advanced Nursing Practice
. Students complete residency hours in areas of their choice to develop and hone leadership and practice skills.
By the time you complete this program, you'll have the capacity to model scholarship, professionalism, and excellence in advanced nursing roles, while ensuring the use of advanced clinical judgment, systems thinking, and accountability to provide evidence-based care in the area of specialization or in systems leadership.
In addition to our main and online campuses, Concordia has nine center locations which offer accelerated undergraduate and graduate programs close to where you live and work.
MSN degree from an accredited school of nursing.
Current RN licensure in the state of residence.
Current certification as an advanced practice nurse (nurse practitioner, clinical nurse specialist, nurse midwife, or registered nurse anesthetist) or as an advanced nurse administrator.
A cumulative 3.5 GPA from previous MSN coursework (those applicants with a 3.25-3.49 cumulative GPA from MSN coursework will be considered on a probationary status).
Graduate-level statistics course that includes descriptive and inferential statistics taken within the last five years (must have achieved a grade of B or higher).
Career Paths
Doctor of Nursing Practice (DNP)
Director of Health Services
Director of Clinical Services
Director of Nursing Research
How to Apply
These programs have a minimum undergraduate GPA requirement of 3.00.
Admissions Process for Graduate School
Application (Please Submit the Following):
Application form available at: www.cuw.edu/apply
Non-refundable application fee
One page essay describing your reason for obtaining a graduate degree
Résumé of your

nursing experience and education and the applicant's progression in advanced practice or leadership positions.

Two signed letters of recommendation using the Recommendation Form. These should be 

professional colleagues familiar with advanced practice nursing or leadership competence. References should address the applicant's potential for success in the DNP Program.

(recommendation letters on letterhead may also be submitted)
All official transcripts leading to

to undergraduate and graduate degrees.

Documentation of the number of faculty-supervised clinical hours completed in the MSN program.

Admission essay.

Admission Interview.

The priority deadline is April15 for the cohort beginning late-August. There is a mandatory orientation on campus on August 17.
Please note:
Graduate entrance exams such as the GRE are not required
If you have completed graduate level classes in the last seven years and wish to have them evaluated for possible transfer, please contact your admissions counselor for more information on transferring graduate credits
International students should contact the Office of International Student Services at international.admissions@cuw.edu for additional application requirements

Evaluation
When an applicant's file is complete, the file is forwarded to the Admission Committee for review.


Admission
If the student is admitted, an acceptance letter will be mailed to the student and the student's Falcon One Student ID number. Password information to access my.cuw.edu will be sent separately from the Information Technology office. Your advisor will be able to give you information regarding completion of the required student orientation before you begin your first class.
Contact Us
For additional information, please contact the Graduate Admission Office at graduate.admission@cuw.edu or 262.243.4300.
Department Chair - Graduate Nursing Programs, Associate Professor
Phone: (262) 243-2006
Email: diane.ames@cuw.edu

Bio
Dr. Diane Ames teaches Advanced Practicum Nursing 3 in the Adult Geriatric Primary Care and the Family Nurse Practitioner programs along with Advanced Health Assessment. She is a Co-Director of the Graduate Nursing Programs.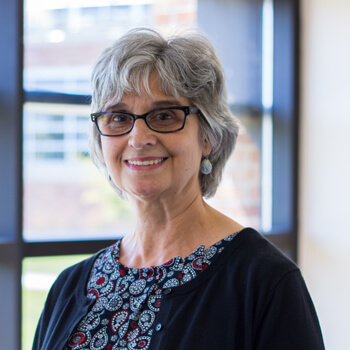 ---
Education
DNP - (2010)
MS - Family Nurse Practitioner , UW-Oshkosh (1996)
BS - Social Work, UW-Eau Claire (1977)
BSN - Nursing , Alverno College (1992)
Nursing Practice, CUW (2010)
---
Research Interests
Interprofessional Collaboration of Chronic Disease
Integrative Medicine
---
Teaching Interests
Integrative Medicine
Interprofessional Education
Ability to put nursing education, leadership principles, and scientific background into practice to improve care quality and patient safety
Skilled in communicating and collaborating in an inter-professional health-care environment
Experienced in using informatics and health-care technologies to improve patient care
Demonstrated knowledge of health-care policy and ability to advocate for quality health care for all citizens
Knowledge of clinical prevention and population health at the individual and group/aggregate/population levels
Advanced professionalism and professional values
Skills to perform at the highest level nursing practice reflective of the educational preparation
Connect with a Counselor
Please select the area that best describes you from the options below.