Come experience life in the US
Concordia encourages growth through cultural immersion and English language acquisition.
The English language Institute is an intensive English program (IEP) that helps international students prepare for undergraduate and graduate courses. With our comprehensive ESL curriculum, students will learn the skills necessary to interact in a university classroom. The program focuses on developing listening, speaking, reading, and writing skills in English. In addition, students will learn methods for conducting research, and they will begin their studies by learning vocabulary that is specific to their intended majors.
The purpose of the English Language Institute is provide you with multiple opportunities to experience life in the United States through cultural immersion and English instruction. Our dedication is to help you achieve your language goals and fully prepare you for your academic courses.
Our classes are taught on the Concordia campus next to the beautiful Lake Michigan. Each ELI session is 7 weeks long and includes regular classes and assessments. Classes are always held during the school year with some classes or camps held in the summer. A list of upcoming classes can be found below.
We are excited that you are considering joining our wonderful community here at Concordia. Please feel free to contact the director of the program if you have any questions.
As a student you will learn to:
Speak accurately and fluently
Actively listen to seminars and classes in English
Write effectively in formal and informal situations
Read quickly for comprehension and respond appropriately
Be a successful student in a U.S. university
Our program offers multiple benefits:
Small class sizes with close to 10:1 student to teacher ratios
21 or more hours per week of English instruction
Experienced teachers with specialized training in teaching English as a second language
English conversation partners (regularly meet with native-English speaking students here at Concordia)
Interactive online materials that help develop language abilities outside the classroom
A focus on the practical use of English for academic purposes
Active learning opportunities in class and outside of class
Various start dates throughout the year
Assistance in understanding and adapting to a new culture
Opportunities to connect with students from all different cultural backgrounds
Regular off-campus outings to places around Milwaukee and Chicago
Additional features of the program include:
An alternative to the TOEFL or IELTS for showing English proficiency for admission to CUW
Preparation for transition to full-time academic study at CUW
Full-access to CUW's wonderful facilities in a beautiful, friendly, and safe setting along the shores of Lake Michigan
Upcoming start and end dates:
| | | |
| --- | --- | --- |
| | Start Date | End Date |
| Fall 2019, Section 1 | August 26 | October 11 |
| Fall 2019, Section 2 | October 11 | December 6 |
| Spring 2020, Section 1 | January 27 | March 13 |
| Spring 2020, Section 2 | March 23 | May 8 |
| Summer 2020 | June 15 | August 14 |
| Fall 2020, Section 1 | August 24 | October 9 |
| Fall 2020, Section 2 | October 19 | December 4 |
Start and end dates are subject to change. Please contact ELI for updated information. 
Meet the Staff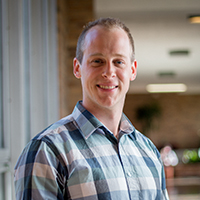 Dan Wagner is the director of the English Language Institute. He graduated from Valparaiso University with a Master's in TESOL. Also, he spent a considerable amount of time in China and is competent in speaking and reading Mandarin Chinese.