Lead change in healthcare
At Concordia University Wisconsin (CUW), we are passionate about developing world-class pharmacists and professionals to be servant leaders, dedicated to improving the health of our communities. To help achieve this, our School of Pharmacy, in collaboration with Concordia University Nebraska (CUNE) is pleased to offer a dual PharmD and Master of Public Health (MPH) degree.
Through the CUNE online Master of Public Health (MPH) program, our students will be prepared to resolve complex health issues and enhance the well-being of communities. The online MPH dual degree program allows you to focus on a medication safety & pharmacovigilance concentration to complement your passion for service and the desire to improve public health.
Medication Safety and Pharmacovigilance Concentration
The use, misuse, and exposure to medications greatly affects the health of the public. As medication experts, pharmacists play a major role in medication safety and pharmacovigilance. Our Master of Public Health (MPH) concentration in medication safety & pharmacovigilance complements the PharmD curriculum in preparing graduates to be responsible clinicians and leaders in medication safety.
Graduates will be able to serve the public in many unique ways:
Serve as a medication safety officer/champion for a health care system

Manage safety regulations on a local (e.g. departments of public health), national (e.g. Food and Drug Administration, Centers for Disease Control and Prevention), or international (e.g. World Health Organization) level

Work in industry with post-marketing surveillance/safety monitoring 

Work in epidemiology/with big data (e.g. insurance companies/managed care) 

Many other capacities
Licensure / Certifications
Medication safety and Pharmacovigilance
Students must apply, be admitted, and accept admission to each professional  (PharmD) and graduate (MPH) program and abide by all program requirements.
The PharmD/MPH dual degree requires both the usual 148 credits for the PharmD degree and the usual 39 credits for the MPH degree. However, 12 credits of MPH concentration courses could count toward the 10 credits minimum of PharmD professional elective coursework. This makes the total minimum credit load for the dual degree program 175.
Students who would like to pursue an MPH degree in addition to the PharmD degree must first successfully complete the PharmD application and admission process.
Students who have been admitted into the PharmD program at CUW and wish to also pursue the MPH degree are eligible to apply for admission into the MPH program by completing the MPH application process.
Admitted PharmD students can complete the MPH application process either before starting the PharmD program, or in the P1 or P2 year.
Once the MPH application materials are submitted, it will be reviewed by MPH program representatives and an admission decision will be made.
Audrey B. Kostrzewa PharmD, MPH, BCPS
Assistant Professor
Office: Pharmacy Building PH260
Phone: (262) 243-2750
Email: audrey.kostrzewa@cuw.edu

Bio
Dr. Kostrzewa is a pharmacist specializing in Drug Information, with interests in medication safety and public health. She teaches Medical Literature Evaluation and Medication Use in Public and Population Health.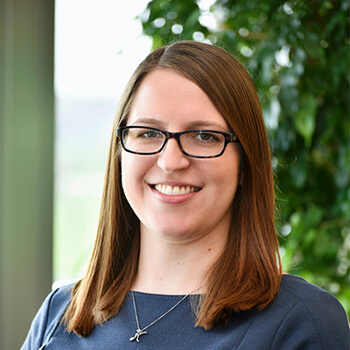 ---
Education
Froedtert Hospital (2013)
The University of Iowa (2012)
The University of Iowa (2012)
---
Research Interests
Effective teaching
Impact of safety interventions
---
Teaching Interests
Literature evaluation/biostatistics
Medication safety
Connect with a Counselor
Please select the area that best describes you from the options below.