Teach more of the world, reach more of the world
With a minor in Spanish, you will be a more effective teacher to engage and involve students who are English language learners. Your studies will illuminate and celebrate differences to be a part of bridging cultures together. Your training in both language and education will help students truly understand the learning intentions within the classroom, and find truth in the meaning of the lesson.
You will be able to communicate with native speakers globally and, with the rise of bilingualism, within your own community. You will be expected to use applied linguistics to solve language-related issues that present themselves in classroom scenarios. You will be able to approach Spanish grammar, literature and writing with confidence. With volunteer work and internships, and opportunities to travel within the U.S. or abroad, you will immerse yourself in Spanish experiences to better understand the culture and context within your field.
Within the Spanish Minor, you will learn to master the tools of clear and meaningful communication with intensive conversation, literature and composition study. The Spanish Minor is available in the Elementary/Middle-School Education Major, is licensable 1365 and includes 24 credits.
Undergraduate Application Steps
It's time to help you become a Falcon! Just follow these simple steps to complete your application.
For first-time freshman:
Submit your online application  
Submit the Common Application
Have your school send your official high school transcripts. Transcripts may be mailed or sent via a transcript processing service to:

Concordia University Wisconsin
Admissions Office
12800 N. Lake Shore Dr.
Mequon, WI 53097


Send your official ACT or SAT scores.
Scores on your high school transcript will be considered official. If your school does not put scores on transcripts, please contact ACT at www.act.org or College Board at www.collegeboard.org.
For transfer students:
Submit your online application
Submit the Common Application
Submit official transcripts from all colleges/universities attended
*Transfer students with less than 60 college credits completed will also submit official high school transcripts. Students who have less than 30 college credits also need to submit official ACT or SAT scores. Scores on your high school transcript will be considered official.
Minimum Requirements
A minimum GPA of a 2.5/4.0 (C average) or higher
ACT composite of 18 or above
SAT equivalent of 940 or higher for combined math and evidence-based reading and writing (for tests taken after March 2016).  
*If your GPA or ACT score falls below the minimum for acceptance, your admissions counselor may ask you to retake the test or supply additional documents, such as an essay or letters of recommendation, to complete the application.
Required Academic Coursework in High School
A minimum of 16 units of high school (secondary school) work is required, of which at least 11 should be in basic liberal arts areas. Units should be distributed as follows:
English: At least three units, but four are strongly recommended.
Mathematics: Two units of college-prep math, preferably one each in Algebra and Geometry.
Natural Science: Two units, preferably one each in Biology, Physics or Chemistry.
Social Studies: Two units, preferably one each in world history and American history.
Liberal Arts: Two units of the same foreign language or additional units in one or more of the other listed subjects or in fine arts.
Other Electives: Five units from any area of academic study, but ideally from the areas listed above.
German or Latin is recommended for pre-seminary students.
Associate Professor
Office: Luther Hall 208L
Phone: (262) 243-4362
Email: brian.harries@cuw.edu

Bio
Brian Harries teaches early British literature in the Concordia English department, with an emphasis primarily on the late Middle Ages and Renaissance. He collaborates regularly with the History and Theater departments, and his research focuses on the Elizabethan theater as a site of cultural identity formation during the turbulent 16th century.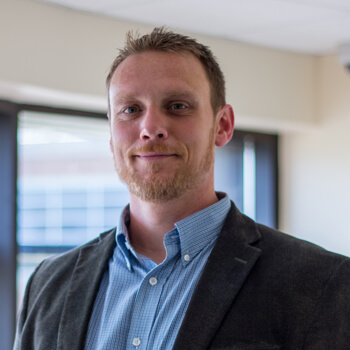 ---
Education
Ph D - English--Shakespeare and Renaissance Drama, University of Kansas (2010)
MA - English--British/American Literature and Literary Theory, University of Kansas (2005)
BA - English, University of Kansas (2002)
---
Contributions
Harries, B. (2019). The Fall of Mediterranean Rome in Titus Andronicus State College, PA: Mediterranean Studies. http://www.psupre...
Harries, B. (2017). Luther and Wittenberg in Elizabethan Drama. Encyclopedia of Martin Luther and the Reformation. Lanham, Maryland: Rowman & Littlefield Publishers.
Harries, B. (2017). Lutheran Influence in Europe and Britain. The Encyclopedia of Martin Luther and the Reformation. Lanham, Maryland: Rowman & Littlefield Publishers.
Harries, B. Christian Free Will and Reader Free Will in Ryan North's To Be or Not to Be. Studies in Medieval and Renaissance Teaching. Wichita, Kansas: Wichita State University.
Harries, B. (2014). Sacral Objects and the Measure of Kingship in Shakespeare's First Tetralogy. Stages of Engagement: Drama and Religion in Post-Reformation England. Pittsburgh, PA: Duquesne University Press.
---
Presentations
Harries, B., Moore, G., Kleinschmidt, M. & Warner, M., (2018). Unsettled Strangers: Early Modern Construction of Self and Gender in Foreign Spaces. Paper. Attending to Early Modern Women. Milwaukee, WI.
Harries, B. (2018). Incorporating Early Textual Editing into an Undergraduate Research Project . Paper. Shakespeare Association of America. Los Angeles, CA.
Harries, B. (2018). "I Know Her for a Spleeny Lutheran": An Elizabethan View of Wittenberg and Its Reformers. Keynote/Plenary Address. Bards in the Arb Lecture Series. St. Peter, MN.
Harries, B. (2017). 'Magic's Mystery'; Hidden Knowledge in Greene's Friar Bacon and Friar Bungay. Paper. Meeting of the Shakespeare Association of America. Atlanta, GA.
Harries, B. & Mobley, S. (2017). Seeding Grass Roots Discussions: Equipping Administrators to Foster Faculty Engagement with Mission, Identity, and External Constituencies. Oral Presentation. ACAD/AAC&U Annual Conference "Telling Our Story, Making Our Case: from Classrooms to Constituencies". San Francisco.
---
Research Interests
Elizabethan Drama, English 16th-century culture
The Reformation
---
Teaching Interests
Shakespeare, Medieval and Renaissance Literature
Grammar and Language History
Connect with a Counselor
Please select the area that best describes you from the options below.