Concordia's New Academic Building
The ~41,000-square-foot Robert W. Plaster Foundation building will house Concordia's thriving Batterman School of Business, and an incubator space for student and community-led startups. In addition, Concordia students studying health care will be invited into the space. With half of CUW's six academic schools devoted to health care disciplines, there exists a built-in opportunity to fuse business and health care learning.
Speech-path program ready to go

Concordia University Wisconsin's speech-language pathology program may be brand new, but it's already making a big difference in school-aged children's lives.

Packers introduce CUW as 'Preferred MBA Program'

Wisconsin's largest Master of Business Administration program is now the preferred educational program of the Green Bay Packers.

Industry Leaders Seminar

Sponsored by Concordia's Batterman School of Business MBA program, the Industry Leaders Seminar brings industry experts to campus to speak on a variety of business leadership topics.
Looking Forward
University and community leaders celebrate the official opening of The Robert W. Plaster Free Enterprise Center on Aug. 1, 2019.
The faculty and students of Concordia's speech-language pathology program pose in front of their new home.
Concordia's Batterman School of Business faculty and staff will be the main group to occupy the new academic building.
The analytics lab is equipped with dual-screen monitors and a stock market ticker—one of the many features of the new building.
On Wednesday, September 14th, 2018, faculty, staff, and students gathered to form an outline that maps the footprint of the Robert W. Plaster Free Enterprise Center.
Read More
Time-Lapse
The Robert W. Plaster Free Enterprise Center started construction in spring 2018 and was officially opened on August 8, 2019. We set up a time-lapse that ran from April 23rd, 2018 to June 25th, 2019. Watch it here.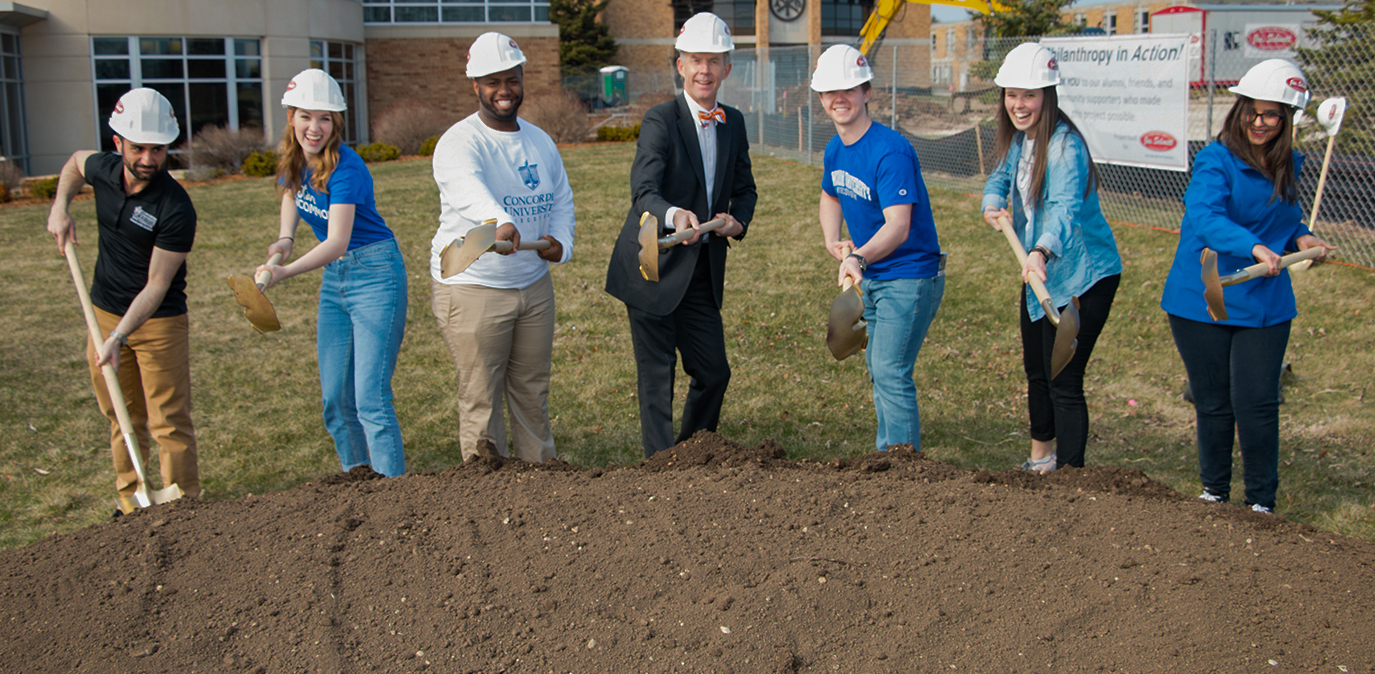 Giving supports faith in action
Support for the Robert W. Plaster Free Enterprise Center has been substantial, but there are more ways to support the mission of the Center. If you or your business would like to be part of this innovative project, please contact Vice President of the CUW Foundation Dean Rennicke at dean.rennicke@cuw.edu or 262-243-4580.