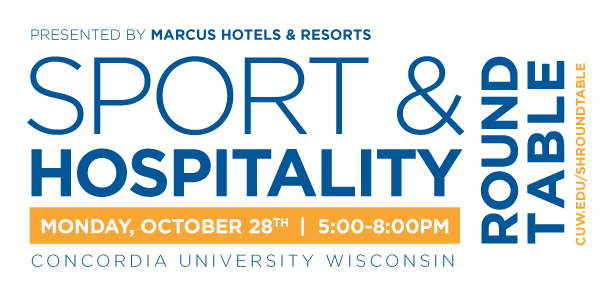 Concordia University Wisconsin's Batterman School of Business is excited to host the 2019 CUW Sport and Hospitality Networking Roundtable, presented by Marcus Hotels and Resorts!
This event, which is designed to support students' career aspirations through active networking with industry professionals, will be held over two days on Monday, October 28 from 5:00-8:00pm and Tuesday, October, 29 from 8:00 - 11:00am. Concordia will host over 50+ experts who represent over 40 organizations in sport, hospitality, entertainment, and events.
Event Information - multiple ways to plug in!  
Networking Roundtable

: Monday, Oct. 28, 5:00 pm to 8:00 pm
Keynote speaker: Greg Marcus, President and Chief Executive Officer, The Marcus Corporation from 6-6:45pm
Experts:

 50

+
Location:

Robert .W Plaster Free Enterprise Center

Cost:

 

Free
Roundtable Morning Panel Session:

 Monday, Oct. 28, 8:20 am – 12:20 pm
8:20 – 9:20 am: Generating Revenue In, and Through, Professional Sports

Jason Hartlund (Chief Revenue Officer, Milwaukee Brewers)
Bob Peiffer (Creative Director, Sargento Foods, Inc.)
Josh Belkoff (Senior Director-Recruiting and Development, Sports Business Solutions)

10:00 – 11:00 am: The Intersection of Sports, Entertainment & Hospitality

Michael Belot (Senior Vice President, Bucks Ventures and Development)
Michael Mueller (Vice President – Corporate Communications, Kohler Co.)
Nate Pokrass (Executive Director, Steve Stricker American Family Insurance Foundation; Tournament Director, American Family Insurance Championship)

11:20 am – 12:20 pm: David Cooks
Location:

Robert .W Plaster Free Enterprise Center
Breakfast with Marcus Hotels & Resorts

: Tuesday, Oct. 29, 8:00 am – 11:00 am

Students interested in Hospitality, Tourism, Event Management and Food and Beverage can network with Marcus corporate representatives, participate in a panel discussion, learn about available positions within Marcus Hotels and Resorts, and take a tour of their new hotel in downtown Milwaukee.

Sponsored by: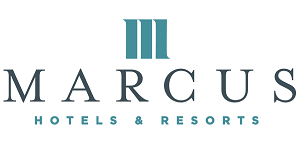 What is a Networking Roundtable?
This is a free, networking event. Over 50 experts in the overlapping sport, entertainment, hospitality and event management industries will be situated at individual table in our new Pharmacy Building. A wide selection of experts will be present ranging in age, experience, organizational role, industry type, etc. Undergraduate and graduate students will meet with the different experts that align with their career goals or interests. They can meet with one expert or twenty – whatever can fit in 3 hours!
Compared to a traditional panel discussion, the roundtable is a much more individualized experience for the experts and the attendees – and that has led to its popularity and effectiveness. Faculty use this event to reinforce the importance of networking and mentoring; to expand students' visions on careers available in these massive industries; and to provide essential perspective not found within the walls of a classroom.
This event is free for all college and high school students (including parents) regardless of university affiliation. The CUW community – alumni, partners, faculty, staff, etc. are also invited to attend this free event.
2019 Participants: 
This list will be updated frequently with additional organizations. Please check back often to watch this list grow for 2019!