Art is how we begin to make the invisible visible
The Art Education major prepares future teachers with the knowledge, skills and attitudes needed to teach visually and perceptively. As an art educator, you can share tools such as patience, passion, and critical-thinking which are vital for living a peaceful and joyous life. You'll learn to guide others as they explore their inner selves, the external world, and the relationships between them.
Art provides the means to give physical form to all of human experience. You will learn the power of using faith as a part of education in both public and parochial settings. You will learn to promote engagement between art and theology, the importance of the spiritual as revealed in art objects, sacred spaces, and in artistic practice, and the connections between visual art and faith. You will learn how art affects the development of children from a physical, mental and spiritual perspective. This program is a licensable subject area major for those seeking a K-12 Education Bachelor's degree.
Our experienced faculty will guide you to explore your own skills in the arts and help communicate it effectively and engagingly with others. You will learn both the fundamentals of art and pedagogy. The Art Education Major consists of 95 - 101 credit hours of course work, dependent upon whether the student chooses a public school or Lutheran education focus. In both cases coursework blends studio and education courses to fully prepare students for a rewarding career in art education. Upon successful completion of all coursework, including a semester of student teaching, art education majors earn full licensure by the State of Wisconsin to teach art at the elementary and secondary levels (K-12).
Recommended for you (based on programs you've viewed)
Undergraduate Application Steps
Admit. Commit. That's it!
For first-time freshmen and transfer students:
Submit your online application
Send Official High School Transcripts (College Transcripts if Applicable).
Send your official ACT or SAT scores
For those that would like to be considered as test optional in the admissions process, please contact your admission counselor. Students with a cumulative GPA below 3.0 are required to submit an ACT/SAT. You will receive an email and a phone call from your dedicated Admission Counselor. Please reach out to your counselor if you have any questions regarding the application process. We review each application on an individual basis using a holistic approach.
Assistant Professor
Phone: (262) 243-2177
Email: brad.alles@cuw.edu

Bio
Brad Alles teaches Foundations of Education and Teaching the Faith. His interests include apologetics and worldview education. He has produced two books, a DVD, and has spoken in twenty states.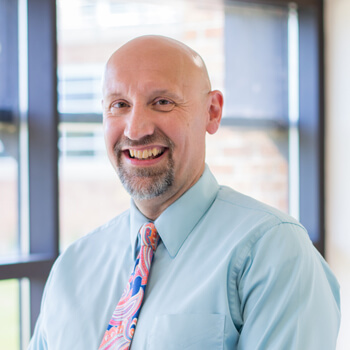 ---
Education
MA - Christian Education, Concordia University Chicago (1994)
BS - Secondary Education/Art & Theology, Concordia University Nebraska (1987)
---
Research Interests
Faith development
Christianity and cultural transformation
---
Teaching Interests
Christian education
Apologetics
James D. Juergensen, Ed.D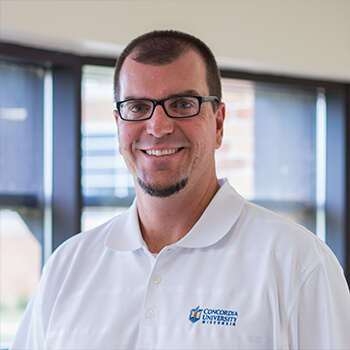 ---
Education
EDD - Leadership for the Advancement of Learning and Service, Cardinal Stritch University (2004)
---
Research Interests
Christian leadership
Athletic ministry
---
Teaching Interests
Secondary education methods
Middle level educaton methods
Department Chair - Secondary/K-12 Education, Associate Professor
Phone: (262) 243-4203
Email: adam.paape@cuw.edu

Bio
Dr. Paape serves as the department chair for the Secondary/K12 education department. His instructional focus is in mathematics education, mentoring future teachers of mathematics. His research focuses on student-centered mathematics instruction, with an emphasis on implementing rich, conceptual mathematical tasks.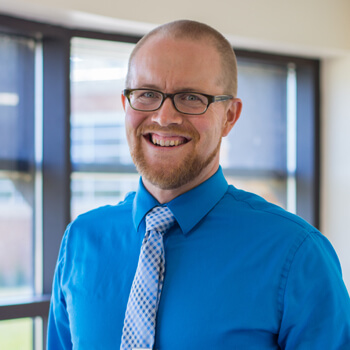 ---
Education
EDD - Educational Leadership, George Fox University (2013)
MS - Educational Administration, Concordia University Wisconsin (2004)
BA - Secondary Education - Mathematics, Concordia University Wisconsin (2000)
---
Contributions
Paape, A. (2018). Reflections on Professional Coaching: Eight Mathematics Teaching Practices River Forest, IL: Lutheran Education Journal. http://www.pagetu...
Paape, A. (2017). (Not) Teaching the Way We Were Taught (Spring 2017). (pp. Spring 2017). River Forest, IL: Lutheran Education Association. http://stf.lea.or...
Paape, A. (2016). Review of Brian Pickerd, Scattering Seed in Teaching: Walking with Christ in the Field of Learning and Education 20 (3, pp. 3). Calvin College: International Journal of Christianity and Education. http://ice.sagepu...
Paape, A. (2016). Using Highlighters to Promote Productive Struggle and Deepen Student Understanding Wisconsin Teacher of Mathematics. http://www.wismat...
Paape, A. (2015). Encyclopedia Entry: School Prayer. Encyclopedia of Christian Education. 2 Lanham, Maryland: Rowman and Littlefield.
---
Presentations
Paape, A. (2018). Using the Desmos Activity Builder to Engage Mathematics Learners. Demonstration. LCMS Northern Illinois District Teachers' Conference. Concordia University Chicago.
---
Research Interests
Mathematics instructional methodolgy
In-service teacher instructional practices
---
Teaching Interests
Mathematics education
Pre-service teacher preparation
Department Chair - Art, Professor
Phone: (262) 243-2611
Email: gaylund.stone@cuw.edu

Bio
Gaylund Stone teaches studio classes (painting, stained glass, calligraphy) and classes in art history, aesthetics, and art education. His paintings (both acrylic and oil) use the landscape as a device for depicting the invisible aspects of faith, thought and feeling. His academic research centers on the philosophy and history of art education.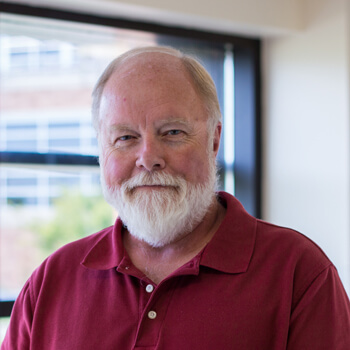 ---
Education
Ph D - Urban Education/Art Education, University of Wisconsin, Milwaukee (1997)
MS - Art Education, Southwestern Oklahoma State University (1977)
Art and Archaeology, Princeton University (1971)
---
Research Interests
Art education philosophy and history
Aesthetics, particularly German Romanticism and its application to art education
---
Teaching Interests
Connect with a Counselor
Please select the area that best describes you from the options below.