Current Exhibition
Earth: Vessel
The clay vessel is and always has been more than simply decorative. Clay vessels are an integral part of human history. This exhibition invited clay artists to explore the uses of clay as vessel. And through this exhibtion you will experience a bright and varied conversation with clay.
The Earth: Vessel exhibition runs from January 15th to March 31st, 2019. Join us for the opening reception on February 7th, from 6pm to 8pm.
History of Ceramics
Ceramics is one of the most ancient art forms going back thousands of years. Once humans discovered that clay could be found in abundance and formed into objects by first mixing with water and then firing, an important tool was born. The oldest known ceramic artifact is dated as early as 28,000 BCE, during the late Paleolithic period. Clay held our stories in images and pictographs. Clay vessels were not only used for holding food and water but clay vessels or pots were also made for assisting in growing food. Burying unglazed clay pots filled with water is an ancient method of plant irrigation.
Gallery Information
Hours
Monday - Thursday | 4:00 pm - 8:00 pm
Friday and Sunday | 12:00 pm - 4:00 pm
Saturday | CLOSED
Location
Concordia University Wisconsin
12800 N Lake Shore Drive
Mequon, WI 53097
Barth 109
About the CUW Art Gallery
Over 30 years ago, the CUW Art Gallery was founded with the hope of educating, challenging, and inspiring the students, faculty, staff, and community of CUW as well as the public through exposure to the vast world of art. Our mission is to encourage appreciation and understanding of art and its role in society through direct engagement with original works of art. Combining fresh, object-based scholarship with broad accessibility, the CUW Art Gallery aims to provoke and affirm accepted meanings of art objects and to suggest new ones to its patrons. We aspire to excite the imagination, and present opportunities for our patrons to look into the study of art and culture.
The goals of the CUW Art Gallery are to:
Bring excellent contemporary and historical art to the CUW campus community
Reflect the diversity of the university and Southeastern Wisconsin community
Connect the university and the public through relevant art and cultural programs
Support student, emerging and established artists by providing opportunities for the creation and exhibition of cutting edge visual art
Development of self-knowledge inherent in artistic activity for the personal growth and development of the CUW Gallery students, faculty, staff and patrons
Our other galleries:
Learn more about the artists in our other two galleries below.
Student Art Gallery: John Kowalczyk
Limelight 14 Gallery: Katrina Smith
Student Art Gallery
Current Artist: John Kowalczyk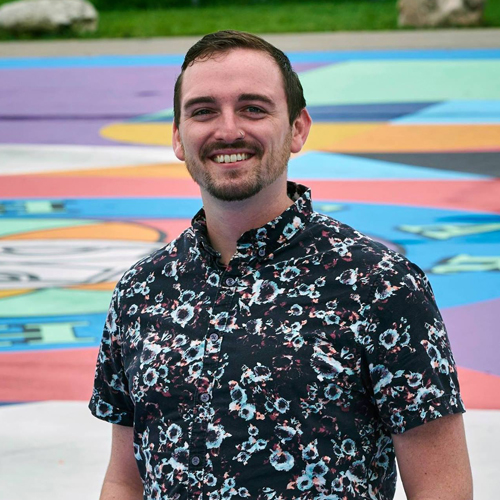 Kowalczyk describes his art as, "Shrine-Like, shiny, symmetrical, and seductive figurations become maps of my mind combining myth, math and magic." Using painting, sculpture, printmaking, and installation as acts of defiance, Kowalczyk utilizes a hybrid process without adhering to historical labels while portraying an abstract society immersed in new media and pop culture. The visual energy in his work radiates like a viral video being viewed millions of times in minutes.
Growing up in the digital age and having multiple streams of information from different media, Kowalczyk's visual conscious has been penetrated. The work he creates is a way to digest how developments in society and culture have altered our perception of contemporary life, while still recognizing the patterns that transcend time through our collective history and culture.
Limelight 14 Gallery
Current Artist: Katrina Smith
Last fall, Facebook newsfeeds were flooded with yet another bandwagon movement. The "Black and White Photo Challenge" asked social media users to post black and white photos reflecting their life for seven days, with no description whatsoever. As an avid lover of photography, this was one Facebook challenge that intrigued me. So, for the next several days, I used my phone to take black and white photos during my ordinary, daily routines. However, I didn't stop at seven photos.
Over the next year, I found myself shooting everyday scenes with nothing but my iPhone to aide me. What you see today is the end result – a collection of moments captured from infinite time, never to be experienced again, except through these photographs.
Just as time moves toward forever, this remains my ongoing venture. Pausing to capture these moments, this collection now contains over fifty works with infinity to go.