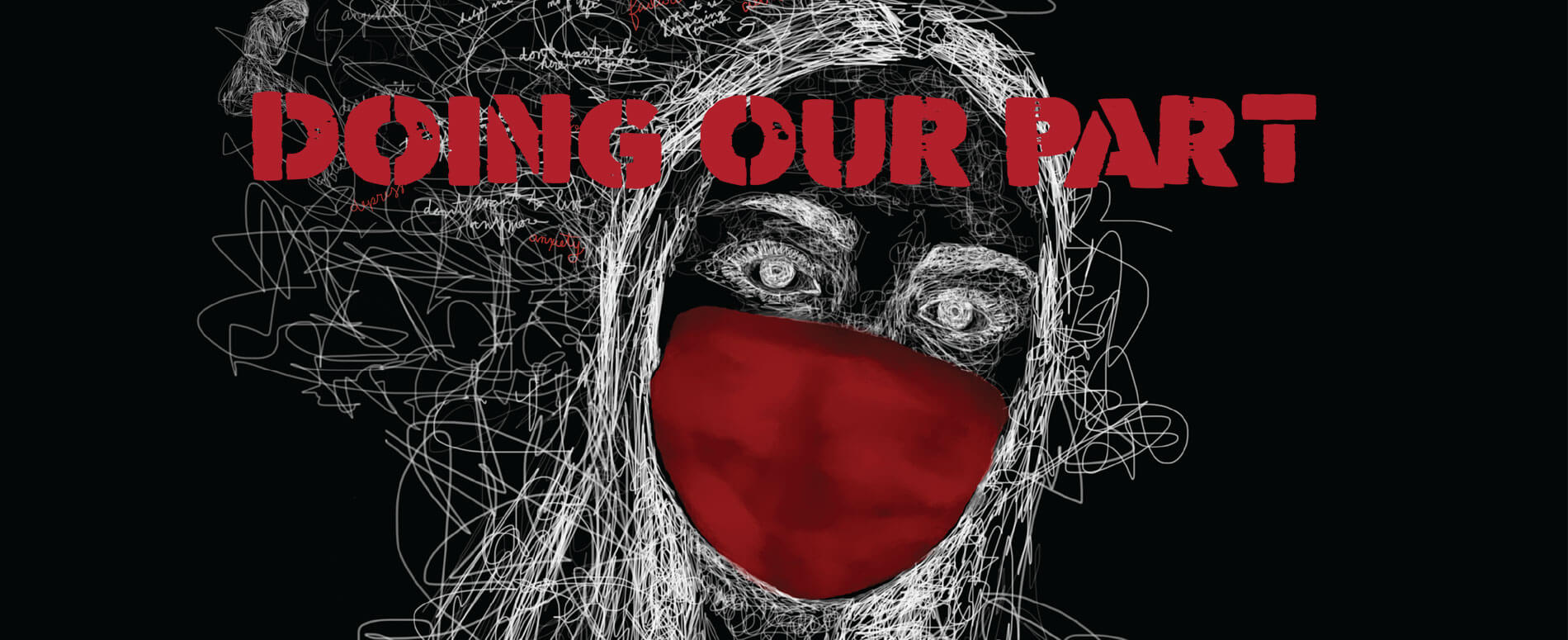 Current Exhibition
Doing Our Part
Doing our Part will run from August 30 through December 20, open for in-person or virtual viewing.
This exhibition is comprised of student work created during the Covid 19 Pandemic. Students were asked to reflect upon their inner feelings as well as their hopes and dreams for the outcome of the uncertianty we were all faced with.
Virtual Gallery
The gallery is comprised of images that were created with Dr. Kenney while students were undergoing the shift to virtual classrooms during the Spring Semesters of 2020 and 2021.
Student Art Gallery
Drawing: Learning the basics
An exhibition of Drawings from the ART 145 Drawing for Art Majors taught by Dr. Gaylund Stone and Professor Charlene Nemec-Kessel.
Barth Cases Exhibit
Inanimate Bonds: Giving Soul to Everyday Objects
Run dates: January 25 through May 10, open for in-person or virtual viewing.
Concordia University is pleased to feature artwork by Stacy Lee Ollmann, a Milwaukee artist who works primarily in mixed media sculpture, collage, and alcohol ink painting. Ollmann says of herself:
"The creative urge that fuels my process is an organic union with my materials. I play with the relationship between the human form and inanimate objects, merging them together – fusing the two in some way. I consider how we attach to or identify with our "stuff." Whether I am adding objects to human forms or giving human qualities to objects, this is an ongoing pattern in my art.
My current body of work is a series of clay vessels that begin as a simple pinch pot and are built up with coils. Hand building is a slow and intimate process. I begin to feel a relationship with the piece and anthropomorphizing it feels natural and intuitive. The pieces take on a life of their own, and I can feel the character emerge and tell me what or who each piece wants to be.
My other medium of choice is polymer clay. Along with paper-mache and acrylic paint, I integrate bits and pieces of found objects into these sculptures to help tell a story or show the viewer a part of the character's personality.
My goal is to love my process, so I achieve it repeatedly – every step of the way."
Gallery Information
Visitors are welcome to view the exhibit at their leisure; during our hours of operation. No reservations are required, but guests should plan to check in at CUW's front desk and follow standard COVID-19 safety protocols, including wearing a mask and physically distancing.
Hours
Monday-Thursday: 4-8pm
Friday & Sunday: 12-4pm
Closed Saturday
Location
Concordia University Wisconsin
12800 N Lake Shore Drive
Mequon, WI 53097
Barth 109
About the CUW Art Gallery
Over 30 years ago, the CUW Art Gallery was founded with the hope of educating, challenging, and inspiring the students, faculty, staff, and community of CUW as well as the public through exposure to the vast world of art. Our mission is to encourage appreciation and understanding of art and its role in society through direct engagement with original works of art. Combining fresh, object-based scholarship with broad accessibility, the CUW Art Gallery aims to provoke and affirm accepted meanings of art objects and to suggest new ones to its patrons. We aspire to excite the imagination, and present opportunities for our patrons to look into the study of art and culture.
The goals of the CUW Art Gallery are to:
Bring excellent contemporary and historical art to the CUW campus community
Reflect the diversity of the university and Southeastern Wisconsin community
Connect the university and the public through relevant art and cultural programs
Support student, emerging and established artists by providing opportunities for the creation and exhibition of cutting edge visual art
Development of self-knowledge inherent in artistic activity for the personal growth and development of the CUW Gallery students, faculty, staff and patrons