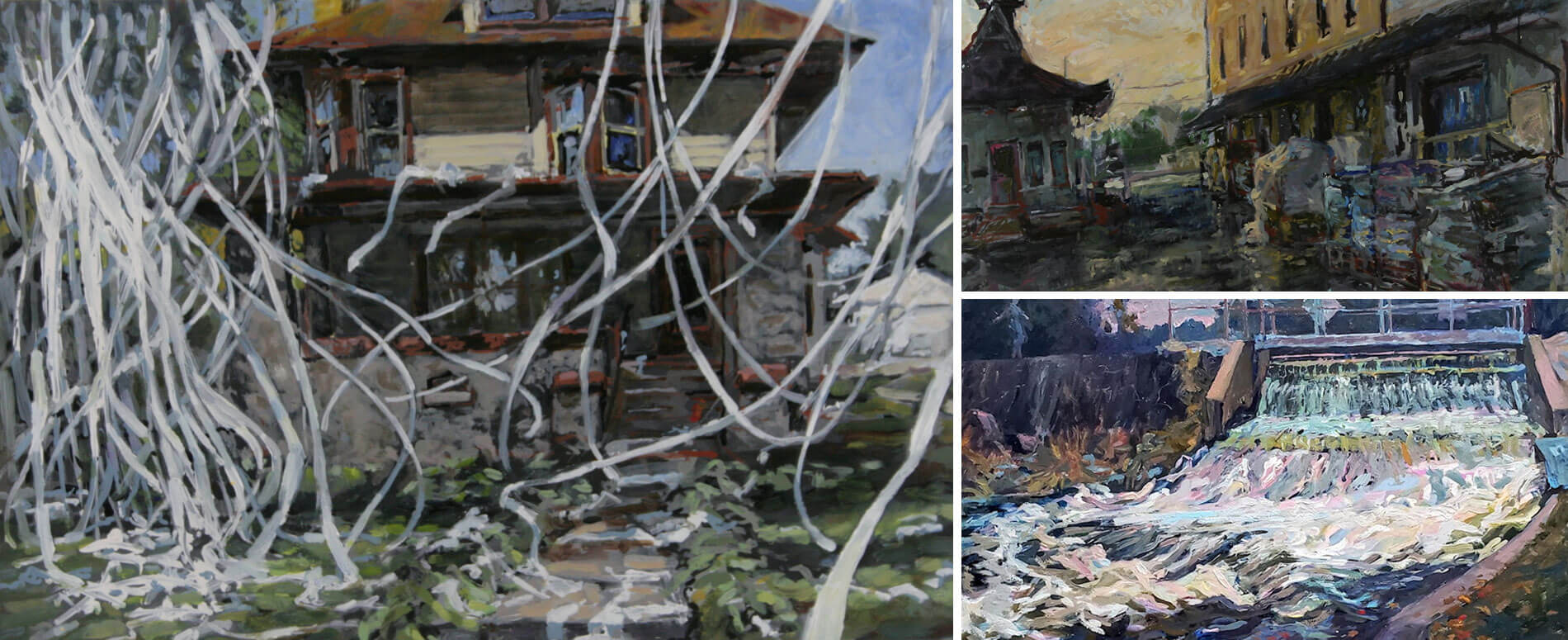 Current Exhibition
Plein Air and where it leads
"Everything that is painted directly and on the spot has always a strength, a power, a vivacity of touch which one cannot recover in the studio... three strokes of a brush in front of nature are worth more than two days of work at the easel." - Eugene Boudin
August 29 - October 23
Opening Reception will take place on Thursday, September 29th from 6:00pm - 8:00pm.
Artist Statement
Troy Tatlock
In fourth grade I got in trouble for "decorating" my desk with scissors and permanent markers. The principal made me stay after school for a month with the meanest teacher the school had. She turned out to have a love for art.
She taught me perspective and gave me perspective. She taught me to look into those dark shadows. What many interpreted as mischief, irresponsiblity, and avoidance, she realized was a refuge.
I am drawn to subjects that plein air painters tend to avoid. I step over boundaries, peer through barriers, and it often leads to the wrong side of a fence. Painting does not come easy for me. When it does come easy I suspect I did something wrong.
I am most proud of paintings that look like they emerged from a bar brawl, as if the artist was bashed over the head with an ash can but managed to get in a few good strokes.
Let the bar patrons debate who won.
Other Galleries
Barth Cases Exhibit
"The Scullery" from the private collection of Dr. Theresa A. Kenney
Student Art Gallery
Kristin Schueffner, Senior Illustration Major
14 Frames Gallery
Interrior Architecture and Design Exhibit by Sofia Asmus
Gallery Information
Visitors are welcome to view the exhibit at their leisure; during our hours of operation. No reservations are required, but guests should plan to check in at CUW's front desk and follow standard COVID-19 safety protocols, including wearing a mask and physically distancing.
Hours
Monday-Thursday: 4-8pm
Friday & Sunday: 12-4pm
Closed Saturday
Location
Concordia University Wisconsin
12800 N Lake Shore Drive
Mequon, WI 53097
Barth 109
About the CUW Art Gallery
Over 30 years ago, the CUW Art Gallery was founded with the hope of educating, challenging, and inspiring the students, faculty, staff, and community of CUW as well as the public through exposure to the vast world of art. Our mission is to encourage appreciation and understanding of art and its role in society through direct engagement with original works of art. Combining fresh, object-based scholarship with broad accessibility, the CUW Art Gallery aims to provoke and affirm accepted meanings of art objects and to suggest new ones to its patrons. We aspire to excite the imagination, and present opportunities for our patrons to look into the study of art and culture.
The goals of the CUW Art Gallery are to:
Bring excellent contemporary and historical art to the CUW campus community
Reflect the diversity of the university and Southeastern Wisconsin community
Connect the university and the public through relevant art and cultural programs
Support student, emerging and established artists by providing opportunities for the creation and exhibition of cutting edge visual art
Development of self-knowledge inherent in artistic activity for the personal growth and development of the CUW Gallery students, faculty, staff and patrons