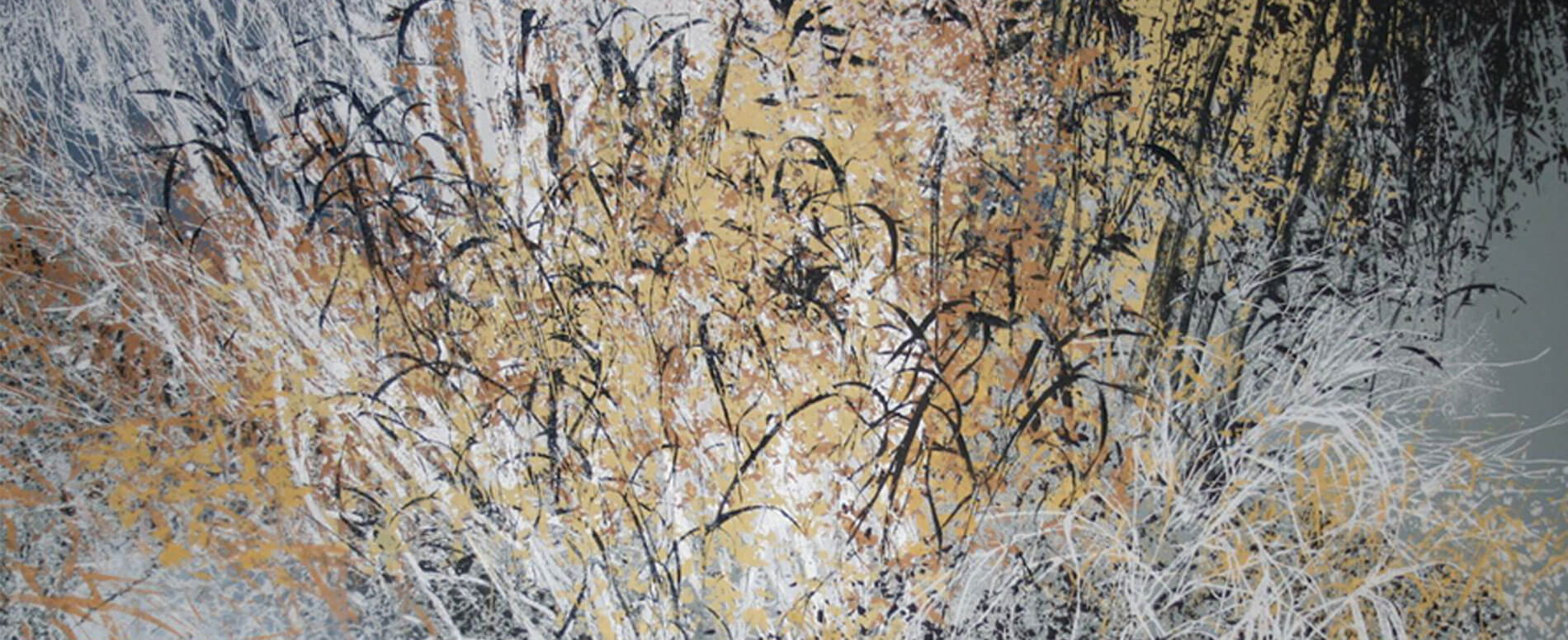 Current Exhibition
Spiritual Reflections
January 23 - April 2, 2023
Opening Reception Feb 10, 2023 6:00pm - 8:00pm
Artist Statement
Jan Jahnke
The finished pieces are a connection between myself and other people. Hiking with my daughter in the Southwest, my son's land in northern Wisconsin, and memories of my grandparent's farm are sources for ideas. Textures of grasses, layers of drying leaves, and piles of stone. Colors of sunlight, shadows, and decay. Patterns of branches, tree bark, and pebbles in the sand. They are all part of the natural world that inspires me. Whether creating abstracts or more realistic renderings of nature, I work with a combination of spontaneity and editing. Multiple layers of ink -both transparent and opaque-are applied, edited and applied again. Eventually the piece will reflect nature with its rich surface quality, texture and energy.
Artist Statement
Susan Buss
Susan's artwork includes salvaged and reclaimed woolens and linens, other natural and synthetic fibers, and hand-dyed yarns to use with weaving techniques or other fiber art and sculptural processes. She uses language, visual and verbal, to express her often tongue-in-cheek humor. Susan is in the midst of a series of works as surfaces that reflect prayer.
Other Galleries
Barth Cases Exhibit
"The Scullery" from the private collection of Dr. Theresa A. Kenney
Student Art Gallery
Kristin Schueffner, Senior Illustration Major
14 Frames Gallery
Interrior Architecture and Design Exhibit by Sofia Asmus
Gallery Information
Visitors are welcome to view the exhibit at their leisure; during our hours of operation. No reservations are required, but guests should plan to check in at CUW's front desk and follow standard COVID-19 safety protocols, including wearing a mask and physically distancing.
Hours
Monday-Thursday: 4-8pm
Friday & Sunday: 12-4pm
Closed Saturday
Location
Concordia University Wisconsin
12800 N Lake Shore Drive
Mequon, WI 53097
Lobert 107
About the CUW Art Gallery
Over 30 years ago, the CUW Art Gallery was founded with the hope of educating, challenging, and inspiring the students, faculty, staff, and community of CUW as well as the public through exposure to the vast world of art. Our mission is to encourage appreciation and understanding of art and its role in society through direct engagement with original works of art. Combining fresh, object-based scholarship with broad accessibility, the CUW Art Gallery aims to provoke and affirm accepted meanings of art objects and to suggest new ones to its patrons. We aspire to excite the imagination, and present opportunities for our patrons to look into the study of art and culture.
The goals of the CUW Art Gallery are to:
Bring excellent contemporary and historical art to the CUW campus community
Reflect the diversity of the university and Southeastern Wisconsin community
Connect the university and the public through relevant art and cultural programs
Support student, emerging and established artists by providing opportunities for the creation and exhibition of cutting edge visual art
Development of self-knowledge inherent in artistic activity for the personal growth and development of the CUW Gallery students, faculty, staff and patrons