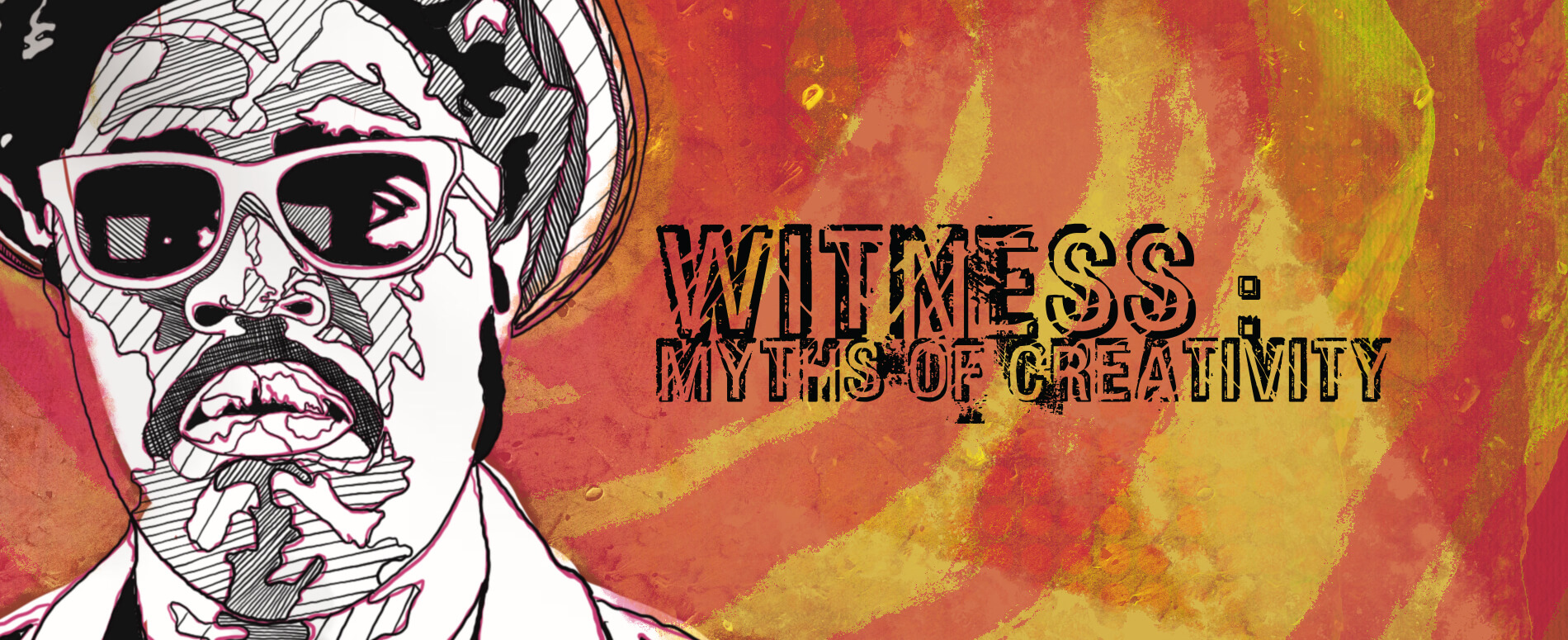 Current Exhibition
Witness: Myth of Creativity
This exhibition began as part of Rosy Petri's Pfister residency. Witness: Myths of Creativity explores the creative processes and experiences of a variety of other artists. Petri's work strives to convey the message that creativity can be accessible to everyone, anywhere and at any time. This work can be experienced effectively from anywhere by anyone with a smart phone or computer and headphones.
"Witness: Myth of Creativity" will run from August 31st through October 20th, 2020.
About Artist
Rosy Petri
Rosy Petri is a mother, self-taught artist, and storyteller. While her primary medium is fabric portraiture, she also has a background in printmaking, photography and journalism. Petri says that she creates art which is designed to facilitate multimedia storytelling that invites participants into conversations about "collective liberation."
This project was started as a way to share the creative processes and experiences of other artists, Petri said. "I wanted to convey that creativity is something available to everyone, anywhere and any time. I wanted to create art that could be experienced effectively from anywhere by anyone with a smart phone or computer and headphones... work that could be viewed while respecting my own human need for consent regarding boundaries of all kinds." The project "allows me to connect with people while still retaining my own bodily autonomy and safety," Ms. Petri added.
Petri was awarded the 11th Pfister (Hotel) Artist in Residence position in 2019 and was also a 2019 finalist in the emerging artist category of the Mary L. Nohl Fellowship awards. Petri was also a Milwaukee Artist Resource Network mentee under Della Wells in 2018. Petri's work has been featured in shows at the Racine Art Museum, Walker's Point Center for the Arts, Zhou B. Gallery, and The Trout Museum of Art. Her gestural portrait series "Together" is featured in Northwestern Mutual's Giving Gallery, and the "MKE WI" series is currently being installed in the Milwaukee County Courthouse outside of the County Executive's office.
Photo by Pugs (Daniel Seung) Pugliese. MBS Creativity LLC
Student Art Gallery
Homeowrk
Concordia University Graphic Design Students have participated in a co-operative with the Milwaukee Institute of Art & Design (MIAD) for the last 23 years. This exhibition highlights some of the work of our current Senior Graphic Design Majors work from MIAD.
Artists: Allie Stoltz, Joe Michaletz, Brett C Veehendaal and McKenzie Carter.
Limelight 14 Gallery
Art Just Becuase
This is a new exhibition of work by Peggy McDowell. Art Just Because.
A growing number of people are getting even more creative with their coping skills. They are making Art, painting, photography, music, poetry and more to help relieve the stresses of Covid-19. Art does not just unify us, it physically benefits us too. Studies show that spending just 45 minutes a day on an art project can relieve stress and stress, strengthen critical thinking skills and improve and sustain memory. This work by Peggy McDowell is just a small sampling of the work that she has created during he quarantine.
The Wednesday Review
Many of you have used this time at home to learn new skills or practice old ones. Some of you may have worked on drawing, painting, sculpture or other visual arts endeavors. It's often difficult to work in isolation, so the Art Faculty at Concordia University Wisconsin would like to offer an opportunity for you to show us your work and receive some commentary and feedback. Every Wednesday this summer, from 12:00 noon until 1:00, we will be available via Zoom on the following link: (https://cuwaa.zoom.us/j/2622432611).
At least one faculty member, and sometimes more, will be available. Please take advantage of this opportunity to improve your work. For questions or additional information, please contact Dr. Gaylund Stone (gaylund.stone@cuw.edu). Have a productive and creative summer!
Gallery Information
Hours
Monday-Thursday: 4-8pm
Friday & Sunday: 12-4pm
Location
Concordia University Wisconsin
12800 N Lake Shore Drive
Mequon, WI 53097
Barth 109
About the CUW Art Gallery
Over 30 years ago, the CUW Art Gallery was founded with the hope of educating, challenging, and inspiring the students, faculty, staff, and community of CUW as well as the public through exposure to the vast world of art. Our mission is to encourage appreciation and understanding of art and its role in society through direct engagement with original works of art. Combining fresh, object-based scholarship with broad accessibility, the CUW Art Gallery aims to provoke and affirm accepted meanings of art objects and to suggest new ones to its patrons. We aspire to excite the imagination, and present opportunities for our patrons to look into the study of art and culture.
The goals of the CUW Art Gallery are to:
Bring excellent contemporary and historical art to the CUW campus community
Reflect the diversity of the university and Southeastern Wisconsin community
Connect the university and the public through relevant art and cultural programs
Support student, emerging and established artists by providing opportunities for the creation and exhibition of cutting edge visual art
Development of self-knowledge inherent in artistic activity for the personal growth and development of the CUW Gallery students, faculty, staff and patrons