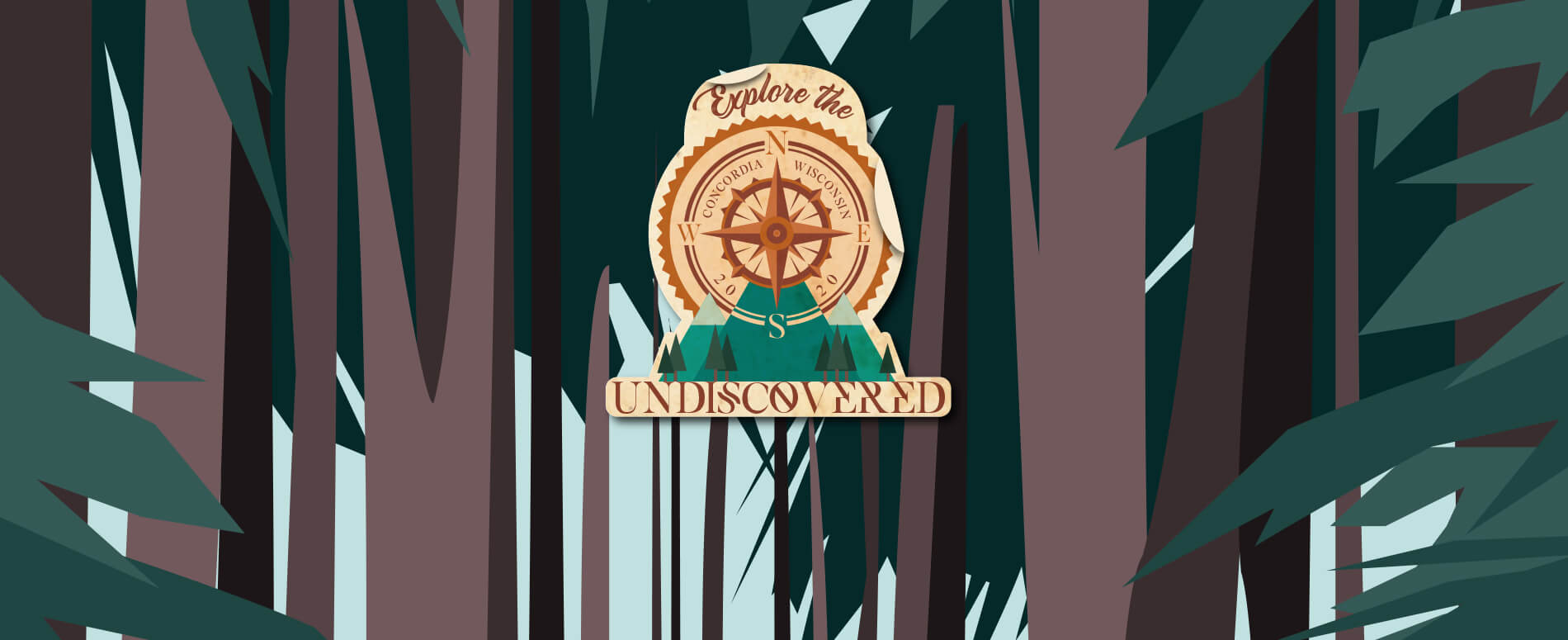 Current Exhibition
Class of 2020 Portfolio Exhibition
When our 2020 senior design students selected Explore the Undiscovered as the theme for their exhibition, no one knew just how unimaginable their journey would be. The process challenged their creativity and flexibility and has resulted in a set of virtual galleries representing 4-years of study and devotion to their craft. The energy and perseverance required to move from the planned gallery exhibition to the virtual one is noteworthy and the Concordia University Art Faculty are very proud of the work our seniors have done. It is our hope that you will spend time in each gallery and enjoy the culmination of their academic preparation.
Student Art Gallery
Doing Our Part
Students worked to create their versions of how they were coping with the Coronavirus Pandemic. In this exhibit freshman Concordia Art Majors created an exhibit of how they felt about their future as well as their present state of isolation. We are very proud of the work the students have made for this exhibit.
Limelight 14 Gallery
Together
Apart
"The photographs in this exhibit represent the work of both of advanced as well as basic digital photography students from the Spring Semester of 2020. A great deal of the work displayed was completed after the Covid 19 virus quarantine required each class to convert to an online format. While the transition posed difficulties, the photographs from both before and after the transition, show a remarkable understanding of the photographic language on the part of the students. As a photographic instructor I am exceptionally proud of the work my students produced, both together and apart. I believe you will see imagery in this exhibit that represents personal insight as well as talent, effort, and quite simply, beautiful photographs." - Prof. Paul Calhoun
Photographers: Lily Kate Burreson, McKenzie Carter, Austin L. Hribar, Mason Runkel
The Wednesday Review
Many of you have used this time at home to learn new skills or practice old ones. Some of you may have worked on drawing, painting, sculpture or other visual arts endeavors. It's often difficult to work in isolation, so the Art Faculty at Concordia University Wisconsin would like to offer an opportunity for you to show us your work and receive some commentary and feedback. Every Wednesday this summer, from 12:00 noon until 1:00, we will be available via Zoom on the following link: (https://cuwaa.zoom.us/j/2622432611).
At least one faculty member, and sometimes more, will be available. Please take advantage of this opportunity to improve your work. For questions or additional information, please contact Dr. Gaylund Stone (gaylund.stone@cuw.edu). Have a productive and creative summer!
Gallery Information
Location
Concordia University Wisconsin
12800 N Lake Shore Drive
Mequon, WI 53097
Barth 109
About the CUW Art Gallery
Over 30 years ago, the CUW Art Gallery was founded with the hope of educating, challenging, and inspiring the students, faculty, staff, and community of CUW as well as the public through exposure to the vast world of art. Our mission is to encourage appreciation and understanding of art and its role in society through direct engagement with original works of art. Combining fresh, object-based scholarship with broad accessibility, the CUW Art Gallery aims to provoke and affirm accepted meanings of art objects and to suggest new ones to its patrons. We aspire to excite the imagination, and present opportunities for our patrons to look into the study of art and culture.
The goals of the CUW Art Gallery are to:
Bring excellent contemporary and historical art to the CUW campus community
Reflect the diversity of the university and Southeastern Wisconsin community
Connect the university and the public through relevant art and cultural programs
Support student, emerging and established artists by providing opportunities for the creation and exhibition of cutting edge visual art
Development of self-knowledge inherent in artistic activity for the personal growth and development of the CUW Gallery students, faculty, staff and patrons