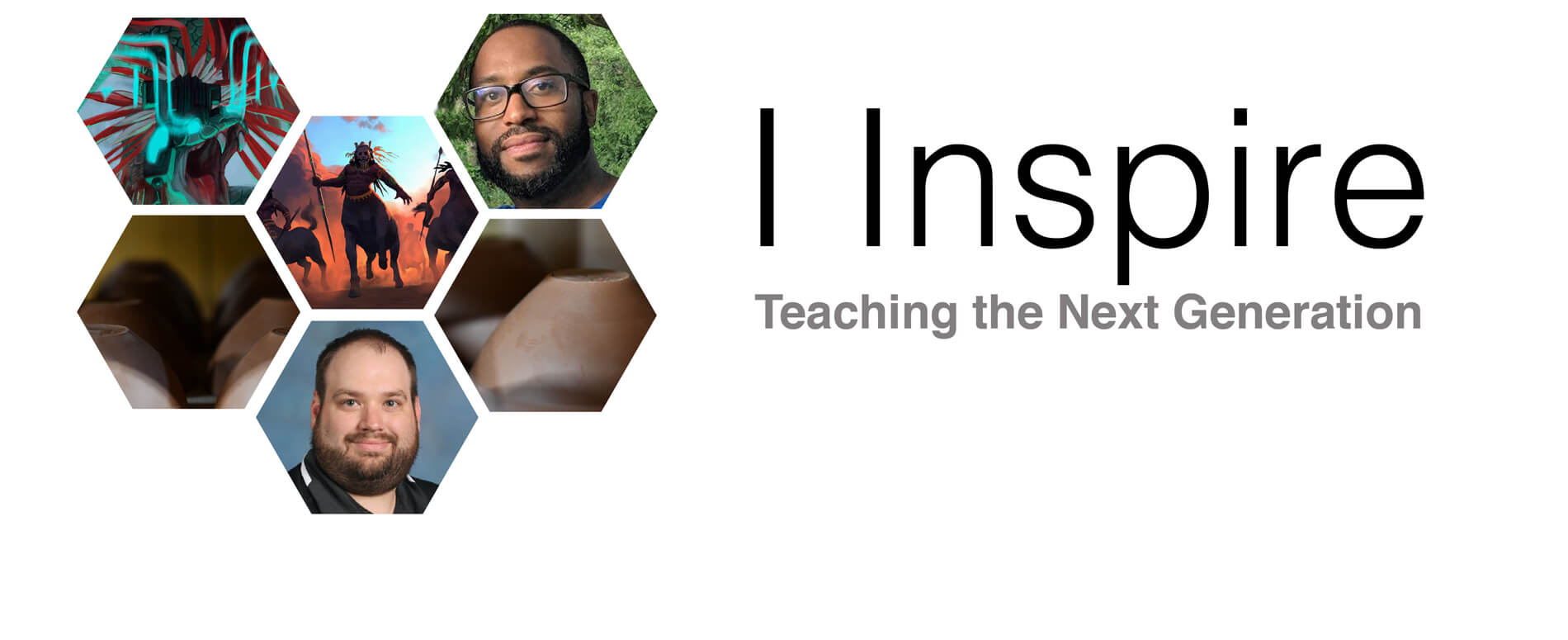 Current Exhibition
I Inspire: teaching the next generation
Media, such as board games, shape our cognition. We make and design what we know and what we are used to. The worlds and artwork we create are influenced by the culture in which we live, work, and play. This sets the standard for our media. Because of this, there is little female and POC representation behind the artwork and creative teams of many games.
This exhibition celebrates the artwork of a game and creative team that specifically chose to buck that trend and be a catalyst for conversation. A game that celebrates the power of culture and representation, the Factions: Battlegrounds project is co-created by Concordia-WI alum Jason Crayton and Peter Ferry. The exhibition highlights the artwork, artists, and underrepresented African, South American, and Native American cultures that influence the game.
This exhibition will run from October 26th to January 15th.
Student Art Gallery
Homework
Concordia University Graphic Design Students have participated in a co-operative with the Milwaukee Institute of Art & Design (MIAD) for the last 23 years. This exhibition highlights some of the work of our current Senior Graphic Design Majors work from MIAD.
Artists: Allie Stoltz, Joe Michaletz, Brett C Veehendaal and McKenzie Carter.
Limelight 14 Gallery
Art Just Becuase
This is a new exhibition of work by Peggy McDowell. Art Just Because.
A growing number of people are getting even more creative with their coping skills. They are making Art, painting, photography, music, poetry and more to help relieve the stresses of Covid-19. Art does not just unify us, it physically benefits us too. Studies show that spending just 45 minutes a day on an art project can relieve stress and stress, strengthen critical thinking skills and improve and sustain memory. This work by Peggy McDowell is just a small sampling of the work that she has created during he quarantine.
The Wednesday Review
Many of you have used this time at home to learn new skills or practice old ones. Some of you may have worked on drawing, painting, sculpture or other visual arts endeavors. It's often difficult to work in isolation, so the Art Faculty at Concordia University Wisconsin would like to offer an opportunity for you to show us your work and receive some commentary and feedback. Every Wednesday this summer, from 12:00 noon until 1:00, we will be available via Zoom on the following link: (https://cuwaa.zoom.us/j/2622432611).
At least one faculty member, and sometimes more, will be available. Please take advantage of this opportunity to improve your work. For questions or additional information, please contact Dr. Gaylund Stone (gaylund.stone@cuw.edu). Have a productive and creative summer!
Gallery Information
Visitors are welcome to view the exhibit at their leisure; during our hours of operation. No reservations are required, but guests should plan to check in at CUW's front desk and follow standard COVID-19 safety protocols, including wearing a mask and physically distancing.
Hours
Monday-Thursday: 4-8pm
Friday & Sunday: 12-4pm
Closed Saturday
Location
Concordia University Wisconsin
12800 N Lake Shore Drive
Mequon, WI 53097
Barth 109
About the CUW Art Gallery
Over 30 years ago, the CUW Art Gallery was founded with the hope of educating, challenging, and inspiring the students, faculty, staff, and community of CUW as well as the public through exposure to the vast world of art. Our mission is to encourage appreciation and understanding of art and its role in society through direct engagement with original works of art. Combining fresh, object-based scholarship with broad accessibility, the CUW Art Gallery aims to provoke and affirm accepted meanings of art objects and to suggest new ones to its patrons. We aspire to excite the imagination, and present opportunities for our patrons to look into the study of art and culture.
The goals of the CUW Art Gallery are to:
Bring excellent contemporary and historical art to the CUW campus community
Reflect the diversity of the university and Southeastern Wisconsin community
Connect the university and the public through relevant art and cultural programs
Support student, emerging and established artists by providing opportunities for the creation and exhibition of cutting edge visual art
Development of self-knowledge inherent in artistic activity for the personal growth and development of the CUW Gallery students, faculty, staff and patrons