The Distinguished Alumnus Award honors graduates of Concordia for reflecting in their lives and careers the values upon which the university was founded. To nominate an outstanding alumnus, contact the CUW Alumni Office at alumni@cuw.edu. The committee will consider your nomination in next year's process.
Would you like to participate in the Distinguished Alumnus Award Committee? Contact us at alumni@cuw.edu.
2019 Distinguished Alumni Award Recipient
Alumnus Sheldon Cuffie lives out the Concordia University mission, serving Christ in the Church and the world by serving others. A 2008 graduate of our management and communications program in the Batterman School of Business, Sheldon serves as the chief information security officer for American Family Insurance. Prior to working for American Family, he held positions at Dell Technologies, Northwestern Mutual, and the Harley Davidson Motor Company.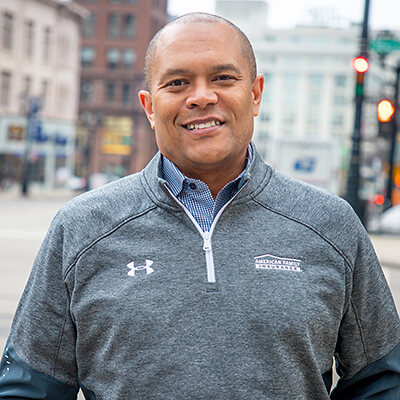 While his work speaks to his business acumen and educational experiences at Concordia, his volunteer roles highlight his heart for helping others. In addition to being a soccer coach, Sheldon has served as a career mentor to many and has spoken at a number of events, providing advice and sharing best practices regarding information security. He has also served on the board at the Milwaukee Urban League and was on the software engineering industry advisory committee at the Milwaukee School of Engineering. In addition, he has volunteered in a number of roles at his church, including president of the Men's Ministry, assistant chairman of the board, and deacon. At Concordia, he has presented in several classes and mentors many of our students.

Sheldon and his wife, Celeste, who is also a Concordia alumna, recently established a scholarship endowment for CUW students. He and his wife support Concordia University every chance they get. We are proud to name him our distinguished alumnus for 2019.
Past Distinguished Alumni
2018 Mrs. Kris Best
2017 Mr. Terry Donovan
2016 Ms. Carrie Miller
2015 Rev. Mark E Wangerin
2014 Rev. Kenneth R Klaus
2013 Rev. Dr. Thomas K Ries
2012 Rev. Dr. Dean O Wenthe
2009 Rev. Randolph H Raasch
2008 Rev. Dr. Jon T Diefenthaler
2008 Dr. Kurt J Krueger
2006 Mrs. Lenore M Chandler
2006 Rev. Dr. Paul W Devantier
2006 Mrs. Evelyn R Hutchins
2005 Rev. Walter M Wangerin
2003 Rev. Eugene F Gruell
2003 Mr. David A Clarke, Jr.
2002 Mr. Kenneth E Greve
2000 Rev. Dr. Harvey D Lange
2000 Rev. Herman C Schedler
1999 Rev. Dale G Federwitz
1999 Mrs. Alvina E Federwitz
1998 Rev. Dr. Joel D Heck
1997 Rev. Dr. Royal W Natzke
1996 Rev. Dr. Dale A Meyer
1995 Dr. Beverly K Yahnke
1994 Rev. Dr. Edwin S Suelflow
1993 Rev. Frederick H Krueger
1992 Rev. Donald L Krabbe
1991 Dr. Holger G Cattau
1990 Rev. Dr. Henry E Simon
1989 Rev. Dr. August T Mennicke
1988 Rev. Dr. Paul T Dietz
1987 Mr. Jon H Nelson
1986 Rev. Elmer J Sedory
1985 Rev. Dr. Victor A Bartelt
1984 Rev. Dr. Edmund Happel
1983 Rev. Dr. Harvey A Krueger
1982 Rev. Elmer A Neitzel
1981 Rev. Victor Selle
1979 Dr. Walter R Roehrs
1978 Rev. Wilbur C Koester
1977 Rev. Edward Jenne
1976 Rev. Dr. Oliver Rupprecht
1975 Rev. J Henry Gienapp
1974 Mr. William Ackmann
1973 Rev. Victor C Rickman
1972 Dr. Oswald C Hoffmann
1971 Rev. Victor Bartling
1970 Rev. Dr. Lloyd H Goetz
1969 Prof. Paul W Zanow
1968 Rev. William H Kohn
1967 Dr. Alfred M Rehwinkel
1966 Dr. Martin L Koehneke
1965 Dr. Walter F Wolbrecht
1964 Dr. C August Hardt
1963 Dr. Herbert W Baxmann
1962 Dr. Edwin W Hattstaedt
1961 Rev. William M Czmanske