The Distinguished Alumnus Award honors graduates of Concordia for reflecting in their lives and careers the values upon which the university was founded. To nominate an outstanding alumnus, contact the CUW Alumni Office at  alumni@cuw.edu. The committee will consider your nomination in next year's process.
Would you like to participate in the Distinguished Alumnus Award Committee? Contact us at  alumni@cuw.edu.
2022 Distinguished Alumni award recipient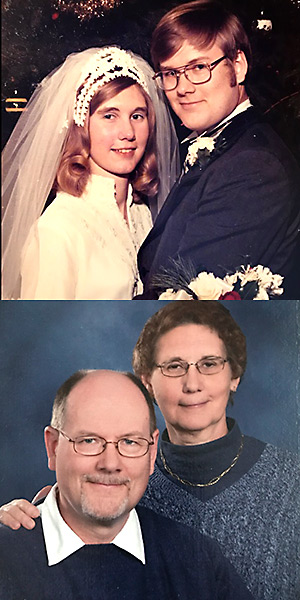 Rev. Dr. John (1972) and Virginia [Riemer] (1972) Oberdeck
John and Virginia (Ginny) Oberdeck have many things in common – from enjoying time with their children and grandchildren, to working within LCMS churches and schools, and many things in between. But most recently, that list grew by one more thing. Each of these dedicated Concordians have been awarded with a very special and significant distinction--the Concordia University 2022 Distinguished Alumni Award.
 This award, which is historically presented during spring graduation, is given to an alumnus or alumna who has consistently demonstrated faithful stewardship of his or her talents and has rendered notable service to the Church and the university.
 Ginny and John met in 1968 when they were juniors in high school. They went on to attend Concordia Junior College, where they both graduated with an associate in arts degree in 1972. After dating for six years they married at Trinity-Freistadt Lutheran Church in Mequon, where Ginny was teaching second grade. They have three children—Andrew, Debbie, and Christy (who is a 2007 alumna herself)—and seven grandchildren.
 When asked about their favorite memory of being a student at Concordia, Ginny and John answered in the same way—meeting and spending time with one another.
 "My favorite memory occurred on Nov. 2, 1968," John said. "While a junior in high school I met my future wife at a dance held in the Concordia gymnasium following a football game with Milwaukee Lutheran High School. Ginny was a student at MLHS and came to the dance with a group of her friends. I asked her to dance. We talked briefly. She gave me her phone number, and then her dad arrived to take her to a babysitting job she had later that evening. She has been my life's love ever since."
 Ginny added: "My time at Concordia gave me the opportunity to attend some of the same classes with John and get to know him better, which eventually led to marrying him!"
 The couple's vocational paths took them to different schools after graduating from Concordia, but they each chose roles within the church. Ginny became a special education teacher for LCMS schools, retiring in 2014 from Our Redeemer Lutheran in Wauwatosa, WI. Along the way, she also took positions as a teacher's aide and grade school teacher; a role at the Concordia Historical Institute; and assistant editor for the Concordia Journal. She earned her master's degree in education in 2001 from Concordia Chicago.
 John went on to earn a bachelor's degree in biblical languages, a master's and doctorate in educational psychology, and a master's of divinity from the Concordia Seminary in St. Louis. He served in several capacities, including as a LCMS pastor, seminary professor, and university professor, most recently at Concordia University Wisconsin.
 In addition to serving God's children in vocational roles, the Oberdecks have also volunteered their time in countless ways through their local congregations, the church-at-large, at the synod level, and on a variety of committees and in organizations.
 From the beginning of their journey together until now, Concordia has remained an important part of their lives. "My time at Concordia taught me the value of Christian education and validated my career choice," Ginny said. "Of all the schools I attended, CUW is the one I feel the most proud of and support as an alumna. I am not the kind of person who has much loyalty or emotional attachment to a place, but CUW is the one exception."
 Their advice to current students?
 "Make the most of your college years," Ginny said. "Get involved in campus life and service opportunities. Lean on Jesus in the difficult times and praise Him in the good times. Seek out friends and staff who will support you spiritually and emotionally. Ask questions and ask for help when needed. Find a good balance between work and relaxation. All of these things will benefit you when you graduate and enter the world of work and adulthood."
 John's advice is reflective, yet simple. "Be careful when you go to dances," he said with a smile.
Past Distinguished Alumni
2021 Rev. Dr. Jamison Hardy
2020 Kenneth Gaschk
2019 Mr. Sheldon Cuffie
2018 Mrs. Kris Best
2017 Mr. Terry Donovan
2016 Ms. Carrie Miller
2015 Rev. Mark E Wangerin
2014 Rev. Kenneth R Klaus
2013 Rev. Dr. Thomas K Ries
2012 Rev. Dr. Dean O Wenthe
2009 Rev. Randolph H Raasch
2008 Rev. Dr. Jon T Diefenthaler
2008 Dr. Kurt J Krueger
2006 Mrs. Lenore M Chandler
2006 Rev. Dr. Paul W Devantier
2006 Mrs. Evelyn R Hutchins
2005 Rev. Walter M Wangerin
2003 Rev. Eugene F Gruell
2003 Mr. David A Clarke, Jr.
2002 Mr. Kenneth E Greve
2000 Rev. Dr. Harvey D Lange
2000 Rev. Herman C Schedler
1999 Rev. Dale G Federwitz
1999 Mrs. Alvina E Federwitz
1998 Rev. Dr. Joel D Heck
1997 Rev. Dr. Royal W Natzke
1996 Rev. Dr. Dale A Meyer
1995 Dr. Beverly K Yahnke
1994 Rev. Dr. Edwin S Suelflow
1993 Rev. Frederick H Krueger
1992 Rev. Donald L Krabbe
1991 Dr. Holger G Cattau
1990 Rev. Dr. Henry E Simon
1989 Rev. Dr. August T Mennicke
1988 Rev. Dr. Paul T Dietz
1987 Mr. Jon H Nelson
1986 Rev. Elmer J Sedory
1985 Rev. Dr. Victor A Bartelt
1984 Rev. Dr. Edmund Happel
1983 Rev. Dr. Harvey A Krueger
1982 Rev. Elmer A Neitzel
1981 Rev. Victor Selle
1979 Dr. Walter R Roehrs
1978 Rev. Wilbur C Koester
1977 Rev. Edward Jenne
1976 Rev. Dr. Oliver Rupprecht
1975 Rev. J Henry Gienapp
1974 Mr. William Ackmann
1973 Rev. Victor C Rickman
1972 Dr. Oswald C Hoffmann
1971 Rev. Victor Bartling
1970 Rev. Dr. Lloyd H Goetz
1969 Prof. Paul W Zanow
1968 Rev. William H Kohn
1967 Dr. Alfred M Rehwinkel
1966 Dr. Martin L Koehneke
1965 Dr. Walter F Wolbrecht
1964 Dr. C August Hardt
1963 Dr. Herbert W Baxmann
1962 Dr. Edwin W Hattstaedt
1961 Rev. William M Czmanske