The Distinguished Alumnus Award honors graduates of Concordia for reflecting in their lives and careers the values upon which the university was founded. To nominate an outstanding alumnus, contact the CUW Alumni Office at  alumni@cuw.edu. The committee will consider your nomination in next year's process.
Would you like to participate in the Distinguished Alumnus Award Committee? Contact us at  alumni@cuw.edu.
2021 Distinguished Alumni award recipient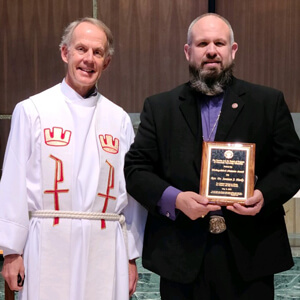 The Rev. Dr. Jamison Hardy ('96) is this year's recipient of the Distinguished Alumnus Award, given in recognition to an alumnus or alumna who has consistently demonstrated faithful stewardship of his or her talents and has rendered notable service to the Church and to the university. "For me to be able to come back here and receive this is truly an honor and a blessing," he said upon conferral of the award.
Pastor Hardy earned his Bachelor of Arts in Secondary Education-Broad Field Social Sciences from Concordia University Wisconsin in 1996, and, in 2000, completed his Master of Divinity degree at Concordia Theological Seminary in Fort Wayne. He earned his master's in public policy from Walden University in 2009, and his Doctorate in Business Administration from Walden in 2012.
Men of influence
Since graduating from CUW, Pastor Hardy has shown a love for education while also serving the Lord as a congregational pastor and a leader within The Lutheran Church—Missouri Synod. He credits the influence of Dr. James Juergensen, Sr. with his decision to pursue a degree in teaching while at CUW. "It was the best thing I could have done, at his suggestion, because the pastoral office is primarily about teaching."
Reflecting on his time here, Pastor Hardy also identified Rev. Dr. Patrick Ferry, Dr. William Cario, and wrestling coach Bret Corner as men who "helped shape me for service to the Church and the world on a daily basis, whether in class or on the mat." He went on to say, "When the most influential men in your life come from Concordia, that tells you something."
Transformed lives
One of those men was the catalyst for an impactful conversion experience Pastor Hardy witnessed as a student. His friend, an international student on the basketball team who had come to CUW as a professed atheist, gave his life to Christ one night after Dr. Ferry gave him and Hardy a ride to Madison to hear Dr. Paul Maier debate "Jesus Christ: Historical or Mythical." In 2007, Pastor Hardy visited his friend in his home country of Latvia and reported that "to this day, he is faithful to God. From an alumni perspective, you can't match those kinds of stories."
Stories like this still take place at CUW today. Pastor Hardy's son Noah is a junior at CUW, studying business and competing on the wrestling team, like his dad. He shared that the captain of the wrestling team was baptized in the Chapel of Christ Triumphant this year. "His experience at Concordia brought him to the font of Christ," Pastor Hardy said.
Speaking of the chapel, he shared that it is one of the reasons he loves coming back to CUW. "Every time I come back to this chapel—it's one of the prettiest facilities we have in the entire LCMS—and look at the cross and that light with the crown of thorns around it, it reminds me of the greatest gift of sacrificial love."
A life of service
Pastor Hardy has spent the last 25 years since his graduation from CUW studying and proclaiming the gospel. He has served as Bishop and President of the English District of the LCMS since 2015 and as a parish pastor since 2000. "The English District covers 22 states and the Ontario province of Canada. By God's grace, I've had the ability to connect with [my Concordia classmates] because, as I travel around for Synod functions and district functions, inevitably I get the pleasure of seeing classmates who are serving in church work in other places," he shared, also noting that the longer he serves, the more classmates he finds working here at CUW.
As a parish pastor, he recently accepted a call to Our Savior Evangelical Lutheran Church in Hartland, Michigan, relocating his family back to his home state after 20 years of service at Our Savior Lutheran Church in Mt. Lebanon, Pennsylvania, his first call out of seminary.
Over the years, Pastor Hardy has helped countless people "develop in mind, body, and spirit for service to Christ in the Church and the world" by serving on the board of directors for organizations such as Concordia Lutheran Ministries (with whom he traveled to Africa over 20 times), the Street Medicine Institute, and the Lutheran Federal Credit Union, as well as director of the Peters Township School Board. He is an advisor to the Board of Regents for Concordia University Wisconsin and Ann Arbor and is a former member of the CUAA Committee of Overseers. He also taught pastoral administration and leadership classes at Concordia Theological Seminary and has presented at several conferences and workshops.
Married to his wife Wendy for 22 years, they reside in Howell, Michigan and have three children: Noah, Nathaniel, and Naomi. In addition to his many church-related titles, he is also called "Coach" as he volunteers his time with their wrestling and football teams.
Past Distinguished Alumni
2020 Kenneth Gaschk
2019 Mr. Sheldon Cuffie
2018 Mrs. Kris Best
2017 Mr. Terry Donovan
2016 Ms. Carrie Miller
2015 Rev. Mark E Wangerin
2014 Rev. Kenneth R Klaus
2013 Rev. Dr. Thomas K Ries
2012 Rev. Dr. Dean O Wenthe
2009 Rev. Randolph H Raasch
2008 Rev. Dr. Jon T Diefenthaler
2008 Dr. Kurt J Krueger
2006 Mrs. Lenore M Chandler
2006 Rev. Dr. Paul W Devantier
2006 Mrs. Evelyn R Hutchins
2005 Rev. Walter M Wangerin
2003 Rev. Eugene F Gruell
2003 Mr. David A Clarke, Jr.
2002 Mr. Kenneth E Greve
2000 Rev. Dr. Harvey D Lange
2000 Rev. Herman C Schedler
1999 Rev. Dale G Federwitz
1999 Mrs. Alvina E Federwitz
1998 Rev. Dr. Joel D Heck
1997 Rev. Dr. Royal W Natzke
1996 Rev. Dr. Dale A Meyer
1995 Dr. Beverly K Yahnke
1994 Rev. Dr. Edwin S Suelflow
1993 Rev. Frederick H Krueger
1992 Rev. Donald L Krabbe
1991 Dr. Holger G Cattau
1990 Rev. Dr. Henry E Simon
1989 Rev. Dr. August T Mennicke
1988 Rev. Dr. Paul T Dietz
1987 Mr. Jon H Nelson
1986 Rev. Elmer J Sedory
1985 Rev. Dr. Victor A Bartelt
1984 Rev. Dr. Edmund Happel
1983 Rev. Dr. Harvey A Krueger
1982 Rev. Elmer A Neitzel
1981 Rev. Victor Selle
1979 Dr. Walter R Roehrs
1978 Rev. Wilbur C Koester
1977 Rev. Edward Jenne
1976 Rev. Dr. Oliver Rupprecht
1975 Rev. J Henry Gienapp
1974 Mr. William Ackmann
1973 Rev. Victor C Rickman
1972 Dr. Oswald C Hoffmann
1971 Rev. Victor Bartling
1970 Rev. Dr. Lloyd H Goetz
1969 Prof. Paul W Zanow
1968 Rev. William H Kohn
1967 Dr. Alfred M Rehwinkel
1966 Dr. Martin L Koehneke
1965 Dr. Walter F Wolbrecht
1964 Dr. C August Hardt
1963 Dr. Herbert W Baxmann
1962 Dr. Edwin W Hattstaedt
1961 Rev. William M Czmanske