The Distinguished Alumnus Award honors graduates of Concordia for reflecting in their lives and careers the values upon which the university was founded. To nominate an outstanding alumnus, contact the CUW Alumni Office at alumni@cuw.edu. The committee will consider your nomination in next year's process.
Would you like to participate in the Distinguished Alumnus Award Committee? Contact us at alumni@cuw.edu.
2020 Distinguished Alumni award recipient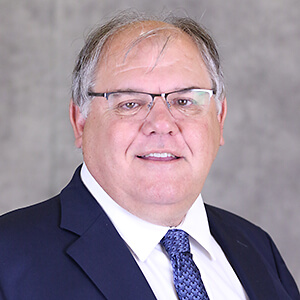 Distinguished Alumnus of the Year Kenneth Gaschk is a true Concordian with roots that run deep.
He earned his associate's degree in 1979 (Concordia Junior College), his bachelor's in 1981 (Concordia College), and his master's in 1994 (Concordia University). But his connections to Concordia didn't end there. He began working for the university in 1981 and retired recently in 2018, completing 37 years of service to his alma mater. His wife, Jill, continues to work for Concordia in her role as an academic and career advisor.
Together, Ken and Jill have raised their two children, Matthew and Emily, in the spirit of Concordia.  "Concordia is a place where we proclaim the truth that Jesus Christ is our Lord and Savior," Ken said. "We are not afraid to proclaim who we are and what we stand for." This is the virtue that Ken has instilled in his family.
During his employment at Concordia, he served in several positions, many of which worked directly with students in admissions. He said that he truly enjoyed sharing the Concordia experience with students and their families.
"I found it rewarding to help find ways to make it possible to come to Concordia," Ken said, referring to some of the financial aid packages and scholarships the university offers. "I got to see these students grow over the years in school, in their careers, and as people."
He especially enjoyed seeing them grow in their faith. "It was very rewarding to see how God used our students," he said. "We don't complete our mission until our students serve Christ in the Church and the world."
Ken has kept in contact with several alumni and said he runs into Concordia graduates all over the world during vacations and travels. "Once you attend Concordia, you are part of a very special family...And it's growing."
During his time at Concordia, from student to retiree, he saw the university grow from hundreds of students to thousands. While he enjoyed working directly with students on a daily basis, he said one of his most rewarding experiences was helping with the acquisition of the Ann Arbor campus. Ken said he was happy to be able to be part of the team that helped prevent CUAA from closing.
Enabling students to experience Concordia has been his life's work. Ken was the first in his family to go to college, so he has a special place in his heart for first-generation students. Not only does the student feel an immense sense of pride to attend school, but the family does as well.
"There was no one more proud than my parents when I graduated from Concordia," Ken said.
Because of this, Ken has set up an endowment to provide scholarships for first-generation students. The endowment will be funded after Ken passes by his estate.
Until then, he continues to help students with this advice: "Don't be afraid to get involved. Maximize your college experience by getting to know people. Concordia is a place where you can experiment with the talents God has blessed you with."
And his advice to alumni: "Remember where you're from. Now is the time to fulfill Concordia's mission."
What is Ken doing to keep busy now? He is in his first season as the Concordia University Wisconsin Shooting Sports head coach, and he serves as the CEO of Owners Representative Service, a company he founded to aid individuals who hire builders for projects. And, as a proud alumnus, he never shies away from an opportunity to be an ambassador for CUW.
Past Distinguished Alumni
2019 Mr. Sheldon Cuffie
2018 Mrs. Kris Best
2017 Mr. Terry Donovan
2016 Ms. Carrie Miller
2015 Rev. Mark E Wangerin
2014 Rev. Kenneth R Klaus
2013 Rev. Dr. Thomas K Ries
2012 Rev. Dr. Dean O Wenthe
2009 Rev. Randolph H Raasch
2008 Rev. Dr. Jon T Diefenthaler
2008 Dr. Kurt J Krueger
2006 Mrs. Lenore M Chandler
2006 Rev. Dr. Paul W Devantier
2006 Mrs. Evelyn R Hutchins
2005 Rev. Walter M Wangerin
2003 Rev. Eugene F Gruell
2003 Mr. David A Clarke, Jr.
2002 Mr. Kenneth E Greve
2000 Rev. Dr. Harvey D Lange
2000 Rev. Herman C Schedler
1999 Rev. Dale G Federwitz
1999 Mrs. Alvina E Federwitz
1998 Rev. Dr. Joel D Heck
1997 Rev. Dr. Royal W Natzke
1996 Rev. Dr. Dale A Meyer
1995 Dr. Beverly K Yahnke
1994 Rev. Dr. Edwin S Suelflow
1993 Rev. Frederick H Krueger
1992 Rev. Donald L Krabbe
1991 Dr. Holger G Cattau
1990 Rev. Dr. Henry E Simon
1989 Rev. Dr. August T Mennicke
1988 Rev. Dr. Paul T Dietz
1987 Mr. Jon H Nelson
1986 Rev. Elmer J Sedory
1985 Rev. Dr. Victor A Bartelt
1984 Rev. Dr. Edmund Happel
1983 Rev. Dr. Harvey A Krueger
1982 Rev. Elmer A Neitzel
1981 Rev. Victor Selle
1979 Dr. Walter R Roehrs
1978 Rev. Wilbur C Koester
1977 Rev. Edward Jenne
1976 Rev. Dr. Oliver Rupprecht
1975 Rev. J Henry Gienapp
1974 Mr. William Ackmann
1973 Rev. Victor C Rickman
1972 Dr. Oswald C Hoffmann
1971 Rev. Victor Bartling
1970 Rev. Dr. Lloyd H Goetz
1969 Prof. Paul W Zanow
1968 Rev. William H Kohn
1967 Dr. Alfred M Rehwinkel
1966 Dr. Martin L Koehneke
1965 Dr. Walter F Wolbrecht
1964 Dr. C August Hardt
1963 Dr. Herbert W Baxmann
1962 Dr. Edwin W Hattstaedt
1961 Rev. William M Czmanske