Clinical instructor excellence awards
Eligibility
To be eligible, a clinical instructor must meet the following criteria:
Demonstrate a commitment to providing exceptional experiential education for School of Pharmacy students. Some items or qualities that students may consider in their nomination could include (this isn't an exhaustive list):

A willingness to mentor and serve as a role model
Providing timely and meaningful coaching and/or feedback
Sharing knowledge and expertise
Demonstrating passion toward the profession and enthusiasm for the advancement of pharmacy practice
Exhibiting the highest level of dignity and professionalism
Facilitating teamwork and an inter-professional approach to patient care
Providing opportunities for innovative learning experiences and growth as a professional

Serve as a clinical instructor for a minimum of one School of Pharmacy student in the category for which they're nominated (IPPE and/or APPE) during the academic year.
Be nominated by a School of Pharmacy student.
Must not hold an assistant/associate/full professor title at School of Pharmacy.
Hasn't received a Clinical Instructor of the Year award in the same category from the School of Pharmacy in the past five years.

How to nominate
Nominations will be accepted from students from Jan. 1–Mar. 30 of each year. To nominate a clinical instructor, please take a moment to fill out our Clinical Instructor Nomination Form.
All nominations will be reviewed by the Office of Experiential Education, and recipient(s) will be selected based on the specific qualities and examples described in the students' nomination forms. Past evaluation scores and comments submitted by students will also be considered in the selection process.
Award recipients will be notified by April 15.
Recognition
Recipients of the Clinical Instructor of the Year Award(s) will be recognized at the annual School of Pharmacy Graduation Banquet in May. They'll also receive a recognition certificate, and their registration fee for the next offering of the ASHP National Pharmacy Preceptors Conference will be paid by the School of Pharmacy.
Award recipients will have their picture and a short biography posted on the School of Pharmacy website.
Clinical instructor excellence awards recipients
2023 Recipients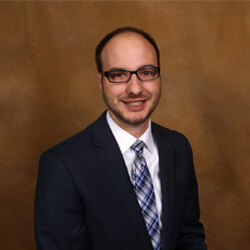 John Day, PharmD, BCPS
Ascension St. Joseph Hospital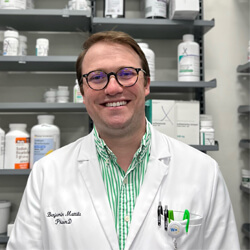 Ben Mattila, PharmD
Walmart
2022 Recipients
Matthew Mattila, PharmD, BCPS, BCOP
SSM Health St. Agnes Hospital
Katy Zeier, PharmD
Oscar G. Johnson Veterans Affairs Medical Center
2021 Recipients
Christina Cash, PharmD
Froedtert & the Medical College of Wisconsin, Froedtert West Bend Hospital
Grace Mortrude, PharmD
Clement J. Zablocki Veterans Affairs Medical Center
Ellen Popov, PharmD, BCOP
Advocate Aurora Health
2020 Recipients
Alan Atchison, PharmD
Walgreens

Elizabeth Laubach, PharmD, BCPS
Ascension Wisconsin
2019 Recipients
Rachel Arfstrom, PharmD
Mayo Clinic Health System – Franciscan Healthcare
LaCrosse, WI
Mark Meranda, RPh
Froedtert & Medical College of Wisconsin
Menomonee Falls, WI
Andy Ticcioni, PharmD, BCPS
Ascension Columbia St. Mary's Hospital Milwaukee
Milwaukee, WI
2018 Recipients
Mike Gillard, PharmD, BCPS
Pharmacy Manager
Ascension | Wheaton Franciscan Healthcare – Franklin & Midwest Orthopedic Specialty Hospital
Josh Welch, PharmD
Pharmacist
Trig's Pharmacy
Ceanne Simmelink, PharmD, BCPS
Pharmacist
HSHS St. Nicholas Hospital
2017 Recipients
Amy Gorgen, RPh
Community Memorial Hospital
Angelo Jones, PharmD
AltScripts Specialty Pharmacy
Jesse Schaetzel, PharmD
Aurora Pharmacy
2016 Recipients
Travis Dash, PharmD
Agnesian HealthCare
Tammy Knaus, PharmD
Aurora Pharmacy
Ryan Szaniawski, PharmD
Community Memorial Hospital
2015 Recipients
Erin Turk, PharmD
Froedtert Hospital
Joe Sterzinger, PharmD, BCPS
Aurora Medical Center—Summit
Kimberly Giovannetti, PharmD
Pick 'n Save Pharmacy
2014 Recipients
Anne Daniels, PharmD, BCPS, AAHIVP
Froedtert Hospital
Edward Merle Johnson II, PharmD, PhD, R.Ph.
Orthopaedic Hospital of Wisconsin
Meaghan McMurray, PharmD
Aurora Pharmacy
School of Pharmacy Program Awards
2021 ACPE Noteworthy Example program award in interprofessional education
ACPE's Noteworthy Example distinction was awarded for Concordia's work in interprofessional education. At the conclusion of each accreditation review cycle, ACPE and the American Association of Colleges of Pharmacy (AACP) recognize model programs throughout the nation. 
2015 AACP award of excellence in assessment winner
AACP's Award for Excellence in Assessment recognizes outstanding Doctor of Pharmacy assessment programs for their progress in developing and applying evidence of outcomes as part of the ongoing evaluation and improvement of pharmacy professional education. AACP has selected the Concordia University Wisconsin School of Pharmacy's portfolio as a winner of the 2015 Award for Excellence in Assessment.